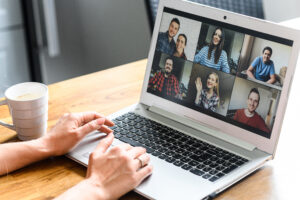 The future of collaborative technologies 
Long before the pandemic struck, many companies were already looking to digital transformation as a means of saving costs and driving efficiencies.
However, the instruction to work remotely following the emergence of COVID-19 left many of those organisations yet to adopt collaborative tech tools, and with little choice but to do so.
Matt Weston, founder and managing director, Vantage 365 explains that in recent years, many businesses have optimised their efforts to ensure fluid communications. Lengthy phone calls have been replaced with instant messaging for fuss-free contact; project management software has made it easier than ever to update colleagues on the status of tasks; and quality video conferencing has cut out futile commutes for time-consuming meetings.
Today, UK workers spend, on average, just 1.4 days in the office, according to Consultancy Advanced Workplace Associates. This has inevitably increased the appetite for intuitive software, and for good reason. Go Remotely reports that 70% of employees credit digital technology with improving overall collaboration.
Companies that instil good communication practices tend to outperform ones that don't. Bit.ai.com says organisations that communicate effectively are 4.5 times more likely to retain their best performers. This is where modern tools come in. Not only do they strengthen communication channels, they also improve productivity, save time spent on low-value tasks, and reduce in-person meeting costs. This highlights the importance of facilitating team-wide communication and demonstrates the need for smart collaborative tools in a modern working environment.
With this, the demand for faster and more efficient practices is growing. But what does this mean for the future of collaborative technology?
Increased Automation
The future of work is going to involve increased use of automation across all industries. This will see the growth of workflows that automate repetitive tasks without human input. Emails, project management admin and electronic publishing are just some examples of tasks that can be automated.
Its use will become more prominent over the coming years, as companies look to compete with business rivals to ensure their offerings are the most efficient, in line with what employees and customers have come to expect.
The use of automation can transform a company's existing workflow for the better, especially in terms of internal collaboration. The delegation of tasks can be completed instantly, status updates can be communicated easily, and meetings can be scheduled to reoccur. Teams are predicted to save hours on thankless tasks by using automated services, allowing them the time to focus on the jobs that add real value. An example of its time-saving credentials comes from management consultancy Gartner. One of its recent studies found that automation can save finance teams up to 25,000 hours of work correcting human error, translating to a cost of $878,000.
With the benefits of automation becoming clear, we expect to see an appetite for more intelligent automation and intuitive processes in the form of AI too; a wise next step for businesses that are striving to become better connected.
AI to Benefit Human Connection
Contrary to the belief that AI will replace the need for humans in many job roles, it could actually help deepen engagement between employees by offering more efficient collaboration practices. There are many ways AI will shape the future of working and, given that 61% of workers say its adoption has driven productivity, employers will be quick to make use of this technology.
AI can help businesses in ways best suited to their needs. For example, it can transcribe notes from meetings to ensure that everyone has a clear understanding of what has taken place; providing voice-searchable versions too. AI can also be used to boost the quality of video conferencing for a more intuitive experience. According to the Harvard Business Review, Zoom has already adopted AI to improve connections, reduce file sizes and adjust lighting and backgrounds for more professional meetings.
Soon, we will see AI used increasingly for instinctive tasks, meaning better decision-making and improved employee training. Organisations will be able conduct mind mapping sessions and rely on AI to help them whittle down the best ideas by analysing individual factors. In addition, AI functions will identify where people need the most support and offer training with colleagues who are particularly skilled in the area.
All in all, the future of working will lean on AI advancements to buy time for workers who can focus on progression and the principal aspects of their role.
Asynchronous Collaboration to Suit All
Buffer's State of Remote Work report says, that 10% of people find working in different time zones from their colleagues the biggest challenge they face. This is something an increase in asynchronous tools could help to combat. Such support enables teams to collaborate at separate times and from different places. While we are largely already comfortable with things like email and workplace chat, given their prominence prior to the pandemic, there will be an increase in the use of digital whiteboards, async video messaging, and tools that benefit team productivity in the future.
Asynchronous working isn't only useful for those working from different locations, but for modern workforces that offer flexibility to employees. With Gartner reporting that 43% of workers find a flexible working policy helps them in achieving greater productivity, this is something that is worth investing in.
Virtual Reality Keeps Us Connected
While remote working increases the productivity of teams and improves the work-life balance of employees, it is still a relatively new practice. As such, the creases are still being ironed out. This is where Virtual Reality (VR) will come in. Gone will be the days of talking over people on video calls, not having use of a visible whiteboard during team collaboration sessions and navigating training from afar. All of the issues will be improved by the introduction of VR, helping to connect teams without them having to make long commutes, or spend an entire day in the office. The increased use of VR in the workplace is likely to be so significant that ARtillery Intelligence predicts its use in businesses will amount to $4.26 billion in 2023; a jump from $829 million in 2018.
What's Next?
The pandemic has resulted in a new outlook on employee wellbeing and productivity. Therefore, the use of high-quality collaborative tools will be a smart move for organisations that want to retain employees and ensure they are working on tasks that will be of most use to the business.
As businesses strive to offer consistency and clarity for employees, automation and the use of AI are already being used in most offices. However, in a bid to reduce costs, ensure that employee time is spent wisely, and avoid the perils of human error, companies will make use of more sophisticated software that can support in decision-making and training – freeing up even more precious time and resources.
In addition to this, employers will use VR and asynchronous collaboration tools in order to get the best out of teams who aren't in the same vicinity. Businesses are noting employee preferences, while also observing the benefits of allowing people to work from where they feel most comfortable, and at a time that they feel most productive.
So much is yet to come in terms of collaborative technology, but one thing is for sure, and that is the great impact it will have in reshaping the future of work.
Read more:
The future of collaborative technologies