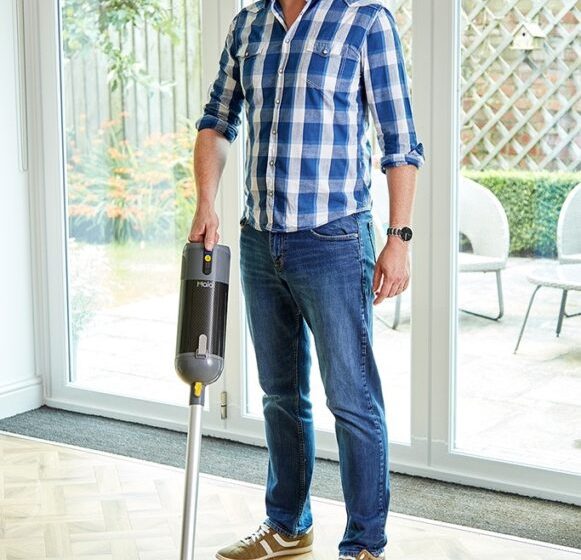 UK vacuum cleaner innovators secure six-figure investment in first-ever fundraise
UK domestic appliance company Halo has secured a new distribution deal which will open European market access for its award-winning cordless vacuum cleaner, the Halo Capsule.
The agreement with German-based production company BranoFilter GMBH comes as Halo enters the latter stages of its first-ever investment round. The company has so far secured over £300K investment through crowd-funding to help grow its presence within the global vacuum cleaner market valued at $53bn.
As well as helping develop Halo's product distribution across Europe, which will significantly enhance its market position, BranoFilter has also invested a six-figure sum into the UK company.
Halo was founded by husband-and-wife team Paul and Rachel Bagwell in 2020 with a clear vision of creating a cordless vacuum cleaner without compromise. Paul worked in senior leadership roles for a number of leading vacuum cleaner brands including Dyson, Vax, and Shark Ninja while Rachel is a highly experienced marketing professional.
The Halo Capsule uses new technology to address the limitations of other cordless vacuum cleaner models which are typically heavy, with small capacity and poor performance. At its heart, Halo has been passionate about adopting a 'built to last' ethos aimed at breaking the disposable cycle of so many modern consumer household products. The company offers a refresh service for its customers where it updates software, and sustainably replaces batteries and internal filters to maximise the longevity of its products.
Halo is tipped for wider international growth and is set to announce a new US distribution agreement shortly which will double its revenues. The company, which generated pre-investment revenue of £2.7m last year, is forecasting this figure to rise to beyond £12.5m by 2025 as the emerging UK brand is rolled out globally.
Halo's crowd-funding campaign is currently live on Crowdcube.
Halo's Managing Director and co-founder Paul Bagwell said: "We are delighted to announce this agreement with BranoFilter, a company which shares our sustainable values. This partnership will significantly increase our market access across Europe.
"This partnership began when we started working with BranoFilter to develop our innovative, sustainably sourced compostable paper bags used in the Halo Capsule. They recognised that our product was unique and saw a significant opportunity to support its launch it in mainland Europe.
Sebastian Melz, Managing Director of BranoFilter GMBH, said: "We are highly impressed by the design, sustainability and performance of the Halo Capsule and the people behind the company. Not only are we excited to work with the Halo team to help establish its brand presence across Europe, we are also proud to invest in the company to help support its international growth aspirations."
Read more:
UK vacuum cleaner innovators secure six-figure investment in first-ever fundraise