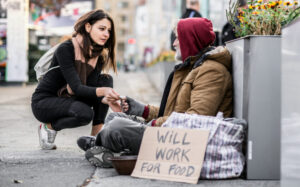 How Centrepoint can help rural England's young rough sleepers
According to recent reports from the BBC, the number of rough sleepers in rural parts of England is on the rise, and concerns are being raised about whether they are being left behind.
As the cost-of-living crisis takes hold and winter weather looms, many homeless people outside big cities find themselves isolated, without shelter, heat or food.
The BBC reports found that homeless people living in rural areas are camping, sofa-surfing, and sheltering in industrial or agricultural buildings which are isolated in location. Regardless of the methods rural rough sleepers are using, they are often 'hidden' from local councils and Government datasheets.
Data from Centrepoint shows that approximately 121,000 young people asked for help with homelessness during 2020/21. A statistic not revealed so clearly is how many young people asked for help in rural areas. Indeed, as they are often less visible, there are fears they may not be accessing the help they require.
Emergency accommodation is also in demand, with many poorer residents in the countryside especially in danger due to the cost-of-living crisis and the cost of private rentals.
Combine this with the fact that Local Housing Allowance has been frozen since April 2020 and all signs point to increased youth homelessness across the country in the coming months.
Centrepoint, a UK charity committed to tackling youth homelessness, has a plan to combat this problem across England.
They step in to help curb youth homelessness, attempting to identify and deal with the root causes of why individuals end up living on the streets.
The charity works across the country, inside and outside of cities, knowing full well that tackling youth homelessness is more than just providing a place for people to stay.
While at the moment, Centrepoint offer a helpline service along with accommodation for young people looking to avoid homelessness, their long-term plan is to end youth homelessness by 2037. This ambition was announced last year so that with help from their work, no one born past the announcements would be homeless at 16.
Centrepoint is pioneering the Independent Living Programme, which is building 300 rent-capped homes for disadvantaged young people. It will provide high-quality affordable housing for young people in work or in an apprenticeship, with the rent capped at no more than a third of their full-time salary.
This is a project that is supported by Javad Marandi who is co-chair of the Growth Board at Centrepoint with Jamie Reuben.  Mr Marandi's hope is to expand the scheme to build 30,000 houses across the country, including in rural areas. He said it was important to 'have a nationwide scheme which not only makes economic sense, but which has a proper impact on society'.
The Growth Board exists to give advice to Centrepoint senior staff, help raise funds, secure land and property development opportunities as well as assist with new ideas on how Centrepoint can incentivise young people to assimilate back into society.
Mr Marandi and Mr Reuben will be pivotal in leading this programme over the next 15 years, as Centrepoint aims to help all young people in England battle homelessness, not just the inner cities.
Read more:
How Centrepoint can help rural England's young rough sleepers