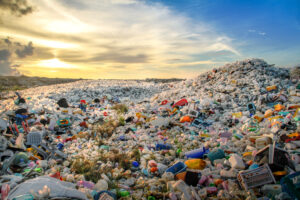 Push to ban export of plastic waste
MPs have called for a total ban on the export of plastic waste by 2027, arguing that the present system merely outsources the problem and causes significant environmental harm elsewhere.
Almost two thirds of the country's plastic waste is sent abroad and Sir Robert Goodwill, chairman of the Commons environment committee, said that this was just "making it someone else's problem". Rather than being dealt with sustainably, his committee concluded that much of it was being dumped and burnt illegally.
"The UK must not be a part of this dirty trade and that's why we are calling for a total ban on waste plastic exports," the Conservative MP said.
China was a major importer of UK plastic but has since banned the trade. About 38 per cent of our exported plastic goes to Turkey, while 12 per cent goes to Malaysia and 8 per cent to the Netherlands. However, research by Greenpeace uncovered evidence of widespread mismanagement of waste in Turkey, to the extent that in parts of the country it has become a major hazard to human health.
Nihan Temiz Atas of Greenpeace said that toxin levels at some sites were 200,000 times the control sample, the highest values ever seen in Turkey, and "80 per cent of the plastics waste we found in the field belonged to the UK".
UK law makes producers responsible for the safe disposal of waste plastic. Exporting is popular because it is cheaper than dealing with the problem here. But the environment committee said that the trade resulted in incorrect disposal and also facilitated organised crime.
The illicit disposal trade provides revenue for criminal gangs and cover for other activities, according to a 2018 review into organised crime in the waste sector.
Jacob Hayler of the Environmental Services Association, which represents disposal companies, said that the ease of getting a licence was such that they had a consultant who "registered their dead dog as a waste carrier".
Goodwill said that the conclusion was clear. "Plastic waste originating in our country is being illegally dumped and burned abroad." In a report to parliament, the committee said requiring companies to fix the issue at home would bolster the recycling industry and encourage innovation.
"We need to reduce how much plastic we use and consume, invest in greater capacity to reprocess our own waste and support research into new technologies and materials," Goodwill said. "If the UK takes a lead in this, we have the potential to create hundreds of jobs and build a multibillion-pound industry."
Read more:
Push to ban export of plastic waste