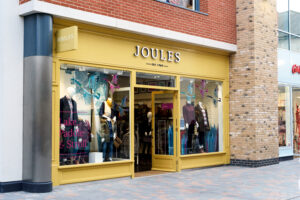 Joules sounds alarm over possible loan default as it calls on investors for emergency funding
Joules warned yesterday that it may default on a bank loan at the end of this month and could call on investors for more funding in an emergency capital raise. The news sent its share price down by more than a fifth.
The retailer has said that it needs to agree a bridging loan to be able to repay a £5 million facility that falls due on November 30 and has appealed to Barclays and its founder Tom Joule to secure short-term finance.
The management team is in discussions with investors, including Joule, about a possible capital raise. It is also assessing whether to launch a company voluntary arrangement, an insolvency procedure, which would help cut its rent bill. Joules would need to secure a bridging loan to buy time to push ahead with a CVA and a capital raise.
The company said that trading had been worse than expected in recent weeks and that mild weather had hit sales of outwear, Wellington boots and knitwear.
In a statement, Joules said: "It is the group's intention to commence consultation with key stakeholders, including suppliers, on the turnaround plan including potential alternative options, should they be required."
Joule, 54, launched the fashion retailer in 1989 by selling clothes at a country show in Leicestershire. The chain, which is known for its colourful, country-inspired clothing, has 1,700 staff and 130 shops.
In a note, analysts at Shore Capital pointed out that even though the mild weather was not particularly surprising, coming during a cost of living crisis, it was especially unhelpful to clothing retailers, adding: "The mild autumn may augment earnings challenges and perhaps accentuate the need for stock clearing."
Peel Hunt analysts said the Joules website was offering heavy discounts on a range of items "as the company focuses on cash generation".
Meanwhile, the retailer Made.com is expected to fall into administration after failing to find a buyer.
One of the company's founders has revealed that he tried to buy the online business but was rejected by PwC administrators.
Ning Li, who launched the online sofa business with Brent Hoberman and others in 2010, wrote a letter to staff to say he "really tried" to save their jobs.
"Unfortunately, my proposal wasn't accepted. Apparently it would be preferable to break the company up and sell it in pieces to generate a little more cash. It makes no sense to me. But I wanted you to know that I really tried."
Next has been tipped as a possible purchaser.
Read more:
Joules sounds alarm over possible loan default as it calls on investors for emergency funding