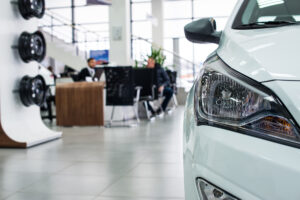 Electric car sales hit by cost of living squeeze and energy prices
AutoTrader, the UK's biggest marketplace to buy and sell cars, is starting to see signs that the cost of living squeeze and high electricity prices could be hurting electric vehicle sales.
Nathan Coe, chief executive of the online business, said yesterday there had been "some weakening", which he put down to the price of EVs and consumers tightening their belts.
EVs have been one of the motor industry's few bright spots, with recent figures from the Society of Motor Manufacturers and Traders, the industry body, showing huge growth in sales of both new and used cars.
Coe, unveiling the FTSE 100 company's first-half numbers, which he said exceeded expectations, said the slowdown in EVs was not dramatic, but feedback from customers pointed to affordability and concerns about topping up with expensive electricity.
"Twelve months ago they were by far the fastest growth market. But demand has suffered a bit. Electric vehicles are not necessarily cheap," he said. "If you combine range anxiety with the cost of electricity then it becomes an issue."
In the six months to September 30 revenues rose 16 per cent to £249.8 million, with operating profits down 2 per cent to £149 million. Advertising from car dealers made up the majority of the £214.3 million income, with consumer advertising generating £18.7 million. Other revenue came from manufacturers and agencies.
Coe said general trading conditions at AutoTrader, a bellwether of market conditions, remained strong even though customers were seeing the cost of financing increase with interest rate rises. For many consumers, cars were not a discretionary spend, he said, so he did not see any signs of buying and selling on the site starting to soften.
The shortage of new cars due to supply chain issues was starting to ease, and that would drive further growth once shipping returns to normal.
"The used car market is far less cyclical than the new car market and new car registrations are expected to recover, currently being at their lowest level in 30 years. There's a shortage of supply, but demand is high," he said.
Peel Hunt analyst Jessica Pok's verdict was that AutoTrader was proving "resilient against the challenging backdrop". The shares, down 7.7 per cent so far this year, closed up by 3.1 per cent, or 17p, at 571p.
Read more:
Electric car sales hit by cost of living squeeze and energy prices