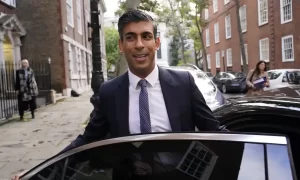 If taxes don't rise Britain will pay a heavy price says Rishi Sunak
Rishi Sunak warned last night that Britain would be punished by the financial markets if he did not raise taxes and cut spending, as ministers announced they were curtailing support for energy bills from April.
In a riposte to his critics on the Tory right, the prime minister said the government had to meet the "expectations of international markets" after the loss of confidence brought about by his predecessor Liz Truss's mini-budget.
However, he pledged that Jeremy Hunt, the chancellor, would also lay out longer-term proposals to "cut people's taxes over time" when he delivers his autumn statement on Thursday.
Yesterday Hunt said that "we're all going to be paying a bit more tax" to get the country's finances back on track and there were "hard choices" to make. He also revealed that there would be "constraints" on further help towards energy bills after April, with support targeted towards the most vulnerable.
The Treasury is understood to be drawing up a package that would adjust the present price cap and result in many households facing an increase of up to £600 in average annual bills.
Speaking on route to the G20 summit in Bali, Sunak addressed critics among his own backbenchers who claim that his tax plans could damage growth and prolong any recession.
Yesterday Simon Clarke, the former levelling-up secretary, became the most senior Conservative to call for a rethink, saying that taxation was already "at a very high level". He said Hunt and Sunak needed to be "extremely careful about further increasing the challenges facing businesses and households".
The prime minister said any watering down of the government's plan to balance the books risked unsettling international markets again and pushing up the cost of borrowing. "Financial conditions in the UK have stabilised clearly, but they have stabilised because people expect the government to take the decisions that will put our public finances on a sustainable trajectory," he said. "It's the government's job to deliver on that."
Pointing out that the IMF had said that about a third of the global economy was facing recession either now or in the near future, Sunak said the country must meet "the expectations of international markets to make sure that our fiscal position is on a more sustainable trajectory".
Sunak, who promised over the summer to cut income tax rates next year, said that he still hoped future tax cuts might be possible.
"Part of our job is not just to bring stability back to the system but it's also to lay the foundations for the economy to recover and grow," he said. "That's how we're going to be able to cut people's taxes over time and support public services."
Speaking on the radio, the chancellor said that he had "hard choices" to make and there would need to be a "contribution from everyone" to get the country's finances back on track.
"This is a compassionate Conservative government that recognises the pressures people feel. But we're not going to stop hard choices," he said.
He also told Sky News: "We are all going to be paying a bit more tax."
Hunt denied that the government was trying to use "sneaky" taxes to limit the political damage, telling the BBC's Sunday with Laura Kuenssberg: "The principle of my approach is that I'm not going to be hiding anything I do. I'm a Conservative chancellor and I think I've been completely explicit that taxes are going to go up, and that's a very difficult thing for me to do because I came into politics to do the exact opposite."
Hunt is also due to announce much more limited government support to help people facing higher energy bills from next April. At present bills are effectively capped at a cost to the exchequer of about £60 billion. From April this support will be reduced to about £20 billion, with households expected to see increases in average energy bills of about £600 a year.
Read more:
If taxes don't rise Britain will pay a heavy price says Rishi Sunak