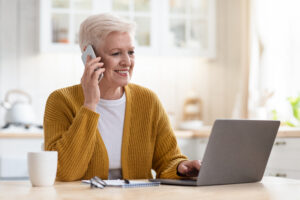 Cost of living sends over-50s back to work
Nine in ten economically inactive over-50s are considering returning to work as the soaring cost of living looks set to force people into new jobs.
Since the beginning of the pandemic, the number of people aged 50 to 64 classed as economically inactive has risen by 3.6 million, or 10 per cent, with many taking early retirement.
That looks set to change as record inflation, pension worries and higher energy bills have left 91 per cent of inactive workers in the age bracket considering re-entering the workforce, according to CV-Library, the online jobs website.
Concern over the cost of living was the leading factor causing over-50s to seek work, with 72 per cent of those surveyed saying that a return to the workforce was necessary owing to such rises, as well as to fears over their pension pots.
Lee Biggins, 45, founder and chief executive of CV-Library said: "With many vacancies still unfilled, it's great news that a significant number of experienced workers are planning on returning to work." He said that employing staff aged over 50 would allow companies to "add experience and stability, as well as diversifying the workplace".
With many businesses facing labour shortages, the return of experienced staff to the workforce will come as a welcome relief to policymakers and economists. An unemployment rate of 3.5 per cent in August has resulted in a tight labour market, with many companies struggling to find experienced candidates to fill roles.
Now a turnround in labour shortages may be on the horizon, as 68 per cent of those surveyed stated that they were looking for a full-time position. However, the expectation of adaptable working post-pandemic remains, with seven in ten wanting flexible working.
Confidence in their skills has left 65 per cent of those surveyed expecting a higher salary due to their age and experience. Yet only 32 per cent expect to enter the workforce with a more senior job title.
Despite a wide range of experience, two in five said they felt that they would require extra training in their new job. But 60 per cent feel they have become more confident in work as they have grown older.
Read more:
Cost of living sends over-50s back to work