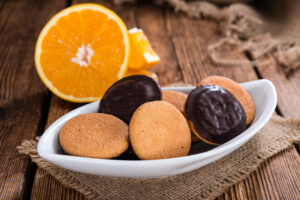 Taking the biscuit: Jaffa Cake shortage fears as factory workers strike over pay
Fans of Jaffa Cakes have shared their concern over a potential shortage of the chocolatey treat after workers at the factory where they are made announced they would be striking over pay.
Staff at the plant in Aintree have been taking limited industrial action since September, but walked out on Monday on indefinite strike.
Eamon O'Hearn, national officer of the GMB union, said: "These workers are rightly angry – they put themselves on the line to keep the company going during the pandemic.
"Now they need some help to get them through the cost-of-living crisis, but it's falling on deaf ears.
"Jacob's workers will now be on strike 24 hours a day, seven days a week until the company comes back to the negotiating table."
Other products facing shortages include Jacob's Cream Crackers and Twiglets.
Customers took to Twitter to share their outrage at the prospect of not being able to buy their favourite products.
One user said "I don't care what you say, if Jaffa Cake production stops fully, the world has ended."
Another said "Jaffa Cake crisis incoming must hoard immediately!"
It comes as nursing staff at the majority of NHS employers across the UK have voted to strike over pay.
The Royal College of Nursing (RCN) said industrial action will take place in the NHS trusts or health boards that have met the legal requirements.
Many of the biggest hospitals in England will see strike action by RCN members but others narrowly missed the legal turnout thresholds to qualify for action.
Read more:
Taking the biscuit: Jaffa Cake shortage fears as factory workers strike over pay