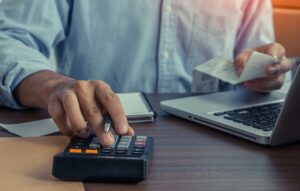 Getting to Know You: Walter Greenfeld, CEO of Keeper
Comprehending the struggle of low-income workers doing their best to live paycheck-to-paycheck, Walter Greenfeld created his business, Keeper, centered around a user-friendly application designed for workers to obtain monetary advances.
Prior to the launch of his business, it was very difficult for healthcare workers, temporary job workers, and contract workers to access pay advances.
Walter Greenfeld was raised in a loving household. His parents, both Holocaust survivors, immigrated to the United States after World War II. Upon settling in their newly-adopted country, his father found steady work in the textile industry, working hard to provide a life of abundance for his family. However, Walter never forgot his family's leaner years, when modest monetary advances had made a tremendous difference in keeping them afloat.
As such, through the memories of his early childhood, Walter Greenfeld understood the plight of working families endeavoring to survive, and the important role pay advances play in keeping families warm and fed until their next payday.
Having spent most of his career in the home healthcare industry, as the years went by, Walter noticed that the caretakers and temp workers surrounding him were constantly short on funds. Recognizing that this recurrent problem required a solution, Walter created Keeper in 2020 in an effort to help healthcare workers, temporary workers, and contract workers find some semblance of financial balance and peace of mind.
What do you currently do at Keeper?
Many functions must be addressed every day. The most important challenge is marketing the business. I do the marketing by reaching out to similar organizations that employ temporary or contract staff who may benefit from our service. The business model goes something like this: Individuals request a cash advance from us for any one of a variety of reasons. Upon approval of the monetary advance, our clients receive their money within minutes. It is critical that we make sure their money is received right away and that there are no mistakes in order to assure a smooth return of the advance. My job at Keeper, though it has many facets, is essentially to make sure individuals are satisfied with our service.
What inspired you to launch your business?
Inspiration struck me when I was working amongst medium- and low-income people. They were mostly working in temporary jobs or as contract workers. I saw the hardship they had to endure living paycheck-to-paycheck. There were times when they needed money a bit before their payday, but there was no way these folks could get a cash advance. So, my partners and I began our finance business with healthcare workers in mind as our primary clientele.
It takes a lot of patience and a lot of heart to take care of the sick and the elderly, and studies have shown that people in financial distress do not perform very well. It makes sense; financial stress takes a toll on home care workers. Providing a solution to alleviate that stress was the inspiration to start the financial business. We found a solution for individuals to receive a pay advance without interrupting their pay schedule. Now, they don't have to live in fear of a bill coming due at a bad time, or the disconnection of services or utilities.
What are the keys to being productive that you can share?
The key to productivity is to have a calm office environment. When you behave decently and honestly and work with people who are good at what they do, a productive environment will just happen naturally. At Keeper, we have to engage with people who are inquiring about cash advances. Generally speaking, they're stressed about feeding their children or saving their services. Therefore, we do our best to cultivate a calm atmosphere in the office and maintain a good mood as we work. If the environment is good, fellow employees look out for one another, which makes for a productive environment and a fun place to work.
What is the most valuable lesson you have learned over the course of your career?
Above all else, I have to be myself and continue to pursue the opportunities where I am most capable of succeeding.
What advice would you give to others hoping to succeed in your industry?
I would remind anyone trying to help others to always keep in mind that when we help others, we help ourselves. We become more in tune with our fellow human beings. Second of all, most of us need help from time to time. Today, it may be a friend who needs help. Tomorrow, it could be you. We should all, each and every one of us, help one another as an automatic reaction. When people are selfish, others observe that way of life and emulate that behavior rather than emulating a caring and compassionate way of life.
How do you maintain a work life balance?
I maintain a work life balance through discipline. When I know what has to be done to assure success at the office, I maintain the workflow through to its completion. Once complete, I take comfort in doing the things that make me most happy. Family is especially important to me. One of the things I find most comforting is to have a nice meal at home with my family.
What is a piece of technology that helps you in your daily routine?
I use my smartphone every day. I'm not too literate in English, so my smartphone is a great help. It keeps me connected at all times. There's a very real downside to it, though. As human beings, we need to be able to check out from time to time. It's tough when I get phone calls while at the dinner table. When that happens, I sometimes end up doing business instead of sharing time with my family, and that can be harmful.
What is the hardest obstacle you have overcome over the course of your career?
At Keeper, we try to be our best every day. But we are human beings, and we sometimes make mistakes. Considering the industry we operate in, inevitably, a dispute arose and some people became disappointed. As a consequence, I lost some credibility. The hardest obstacle I've ever had to overcome is regaining trust after that incident. Building trust is tougher now than when we first built our business, but we do what we say, and we will get back there in the end.
Who has been a role model for you? 
My father has been my role model. He came out of a concentration camp with just the shirt on his back and made it to America. He had no enemies. He lived peacefully and died peacefully. He left a wonderful legacy of hundreds of grandkids, each taken care of financially. He was the envy of many good people. He was a good and decent man.
What does success look like to you?
To me, being happy and grateful for what I have equals success. Living with a few extra dollars to travel or have fun is great, too.
What has been a piece of advice you have never forgotten?
"Don't be judgmental, because the same mistake somebody else made today, you might make tomorrow."
Read more:
Getting to Know You: Walter Greenfeld, CEO of Keeper