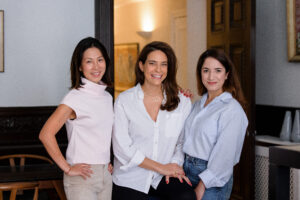 Female-led Pact Launches £30m Seed Fund with Focus on Inclusion, Well-being, and Climate
Pact
has launched its first £30m seed fund to back early-stage startups across Europe using technology to tackle key priorities for the next generation – economic inclusion, personal and professional well-being, and climate solutions.
The new venture capital fund is the first in the UK to be co-founded by three female partners – Tong Gu, Reem Mobassaleh Wyndham, and Monik Pham. (Pictured above) 
Pact's LPs include anchor investor Campden Hill Capital, Jeff Dean, the Head of AI at Google; Yeming Wang, the former head of EMEA of Alibaba; Fahd Beg, the COO of Naspers; Keith Teare, the founding shareholder of TechCrunch; Todd Ruppert,
the retired CEO of T. Rowe Price Global and venture partner at Greenspring Associates
, Tilo Bonow, CEO of PIABO and Anne Hathaway, UN Woman Goodwill Ambassador and Academy Award Winning Actress among others. 
Speaking on the fund's investment thesis, Pact Founding Partner Tong Gu highlighted
, "Our thesis stems from our passion for improving the future. These areas are full of commercial opportunities within global markets we've invested in across our careers. We're launching a dedicated vehicle based on our experiences and understanding of the early-stage founder journey. We want to build long-term pacts with our portfolio and help them change the world."
Pact's fund will lead seed-stage investments into purpose-driven companies that positively shape the future of how we work and live, providing companies with £1-1.5m in funding. The ABC themes created by the Founding Partners cover Access (economic inclusion), Betterment (personal and professional well-being) and Climate. Before launching Pact, the three partners worked and made investments individually and collectively within these themes. 
Notable past investments are Clause, a legal automation service which exited to Docusign and multiple now Series C stage businesses, including Onto, an electric vehicle subscription service; Perlego, an online learning platform; and Yoco, an African FinTech company. 
Before forming Pact, Tong Gu was an investor at ADV and a former founder. She built a data analytics startup in Shanghai, enabling economic participation for independent brand owners, which she grew to 40 people and exited. Reem Mobassaleh Wyndham was also an investor for ADV focused on financial inclusion investments and previously worked as Vice President, Technology for Abu Dhabi sovereign investor Mubadala. She is also a former founder, having built a luxury brand in Dubai. Monik Pham is an operator and entrepreneur who was part of the founding team of the early-stage fund Fuel Ventures, a foreign direct investment firm covering Asia and the Middle East and launched several social enterprises in Africa and India.
Founding Partner Reem Mobassaleh Wyndham said,
"We invest where we can add value. Through our diverse experience across 12 countries, we can provide our founders with the intellectual, social and financial capital to help boost their global reach and impact."
In addition to capital, Pact will provide founders in its portfolio with access to a global collective of former founders, operators and investors to support the portfolio as they grow. This collective includes Ronny Shibley, Former CTO and Co-Founder of Gorillas, Guarav Dhar, CEO of Marshall and MENA FinTech Association Board Member, Murali Akella, Head of Growth Drivewealth and Amy Rennison, Impact advisor. Pact's team has strong ties to MENA, Southeast Asia and China, where we enable startups to test and validate new markets and fundraise from strategic investors.
Pact Founding Partner Monik Pham added
, "We've built a firm where high performance and flexibility are part of its foundation. We're inclusive by design – necessary as all three of us had our first children while raising the fund. We have considered how to deliver at every level, from our investment themes to policies and support provided to the portfolio, including a founder well-being programme." 
Pact's first investment has been made into Growth Kitchen, a London-based company that uses data insights to launch food brands with sustainability as its core operations. Pact has also made two investments yet to be announced – one that uses AI for automation tools for SMBs, and a financial inclusion platform for migrant communities in Europe.
Read more:
Female-led Pact Launches £30m Seed Fund with Focus on Inclusion, Well-being, and Climate