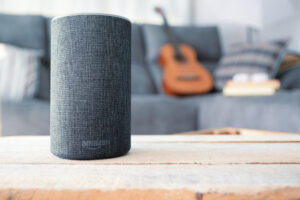 Amazon plans to make Alexa more like your mum to both help and scold
If the man who brought it to life has his way, the Amazon Alexa could soon become more like your mum than the responsive robot it is today, starting to anticipate your needs, dole out advice and perhaps offer a little light scolding.
"It's going to rain today — you may need your umbrella," it might say. Or: "You've left your thermostat at 23C; it should be lower to save energy. Shall I turn it down for you?"
Rather than calling it "Mum", Rohit Prasad, head scientist at Amazon's Alexa division, prefers to use the word "friend". He has spent the past decade developing the home device and is now leader of the Alexa business. His vision is "for her to evolve from just an artificial intelligence [AI] assistant to an adviser and a companion, to reduce our cognitive burden".
Prasad talked about a day when Alexa would do things automatically, without instructions. "You walk in and the blinds go up: that's the sort of interaction we want to achieve, so the technology is there when you need it and it disappears when you don't."
There is a lot of work to do to develop this more sophisticated future, known as ambient intelligence, and the challenge is not just the technology but the economic environment.
Since Prasad spoke to media, Amazon has announced a review of costs and is expected to cut thousands of jobs. Reports suggest that the Alexa division is a prime target because apart from the sale of the product itself, it is a difficult area to make money from. There are no adverts and voice shopping has not caught on.
The Wall Street Journal reported that Amazon's device unit, which includes Alexa, has had operating losses of more than $5 billion a year in recent years. The company has not publicly specified what effect job cuts may have. Dave Limp, of Amazon's device and services division, said: "We are as committed as ever to Echo [the name for the physical products] and Alexa [the voice assistant] and will continue to invest heavily in it."
Amazon does not say how many people work on Alexa but it is thought that it has 10,000 staff, including in the UK, where Cambridge is a global centre for voice AI.
The voice assistant remains popular with its millions of customers. In the past year interactions with Alexa have risen by 30 per cent, some of this engagement driven by the pandemic, according to Prasad. He said that there was more to be done in the retail sphere to monetise the product further, for example advising customers on which camera to buy or recommending an album based on listening history.
Shopping aside, Prasad said that the relationship that people, especially the vulnerable, build with Alexa is becoming important for companionship. "We are finding that certain customers, like kids and ageing adults, engage in more conversational interactions where they want to learn about a topic," he said. "We see a huge opportunity for us to delight those customers with more open-ended conversations."
He dismissed the idea that an elderly relative sitting talking to a robot felt rather sad. "This is where the AI is bridging that human connection," he said. "It's not that it replaces the human. We have a long way to go before it can become truly conversational with human-like intelligence."
New versions of Alexa have a screen so you can dial in and have a video conversation with a relative, a simpler functionality for an elderly person, perhaps, than a computer or smartphone.
It is easy to get carried away with futuristic visions of Alexa but some of the challenges that Prasad and his team are trying to solve are simply making interactions smoother. If you start a podcast in your home, for example, when you get in your car it will need to start at the point where you left off.
Prasad's team uses commands that people are giving Alexa to decide what functions to develop. On privacy, the company said the device "listens" only when the word Alexa is spoken, adding that microphones could be muted, customers could review what is recorded and the history could be deleted.
The company is also still working out how to personalise the device by country. It announced this month that Alexa could speak with an Irish-English voice option, a challenge to build with so many distinct Irish accents. It features greater knowledge about Irish topics, so that "Alexa, what is the Rose of Tralee?" and "Alexa, what's the craic?" will now yield sensible answers.
Another challenge is subtlety. The Alexa team has done a lot of work on common-sense reasoning. For example, if you ask Alexa "what should I get my wife for Valentine's Day?", it recognises that this is a romantic relationship. It may suggest red roses, but of course people are not that straightforward. Your wife might not like red roses.
"These things you and I know as humans," Prasad said. "AI needs to acquire that understanding and nuance and we're still in very early stages of that." He cannot say when this will be achieved. "Progress," he said, "is happening very fast in this area, but to acquire that human effect and bridge this human connection will take time. It's an incredibly hard scientific problem."
Read more:
Amazon plans to make Alexa more like your mum to both help and scold