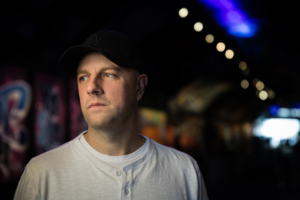 Getting to Know You: Neil Kennedy McConachie of Kennedy One, Music Producer
Neil Kennedy McConachie, also known by his stage name Kennedy One, was originally born and raised in Ontario, Canada, though he is now based out of Dallas, Texas. At the age of 14, Neil began writing and producing electronic music.
His talent for doing so was recognized early, when at the age of 16, he won a contest sponsored by a local radio station. Ever since then, he has pursued music production as a vocation, including a stint at the internationally acclaimed record label Sony Music. Another large part of his career has been ghostwriting songs for other established artists.
As the music producer Kennedy One, Neil Kennedy McConachie is known for straddling electronic music genres, composing works that run the gamut from cinematic downtempo to progressive house. Since the release of his own debut album 'Metropolis' in 2020, his music has reached the top 10 radio and platform charts worldwide.
Neil Kennedy McConachie of Kennedy One also hosts a radio show called Dark City Radio which airs weekly to 1.2 million listeners. The show is syndicated to 30 dance radio stations in the United States, several European countries, and across the world.
What was the inspiration behind getting into music?
I took piano lessons when I was six years old, and I really hated them. Eventually, I started enjoying fiddling around and writing my own stuff. When I was a teenager, I started playing guitar and really got into the work of an artist named Joe Satriani. Music was also evolving at the time to a more electronic style, so Nine Inch Nails and artists like that were gaining in popularity. All of these styles, as well as others, influenced me greatly, and I merged them to come up with my own distinct sound. I also enjoyed writing and playing my own music instead of learning how to play someone else's. As a natural outgrowth of that, I started fiddling around with tape recorders and synthesizers, making a bunch of noise, and eventually that translated into me recording my own songs. When I was 16, I worked at a music store and wrote songs with some of the people there. I learned how to mix and produce tracks, and I bought my own studio equipment. Later, I also worked for Sony Music for a period of time.
What keys to being productive can you share?
Turn off your phone. Smartphones can be useful, but mostly they are tremendous time-wasters. Along with that, I would say assign specific times to check your email and separate your tasks. There's a German DJ and recording artist named Boris Brejcha who uses these techniques to tremendous effect. He carves out specific days for writing, specific days for business, and compartmentalizes every aspect of his professional life. When you do that, you become very focused and purposeful with how you use your time, rather than just chasing tasks.
Tell us one long-term goal in your career.
I want to start deejaying live. I haven't done a lot of live performances, so I'd like to do a hybrid of live performances and deejaying. There are a lot of overlaps and synergies between the musical genres I write, so I'd also like to work with a visual artist who can create a visual and sensory experience to accompany these live performances.
How do you measure success?
It's hard to base a concept of success off metrics in the music industry because it can be discouraging to independent artists. The prevailing consensus on matters like the number of streams or the number of fans needed at a given concert an artist needs to be deemed successful changes so rapidly these days. When I'm happy with something I've made and proud of it, that is success to me. I think success also means creating something timeless and having fun along the way.
What's the most valuable lesson you've learned through the course of your career?
Be humble. If you're not humble, then it'll inevitably come back to haunt you. It's better to have thick skin, expect rejection and be okay with it, and understand that mistakes are how you learn the most valuable lessons. If you're not making mistakes, you're probably not pushing yourself enough. You also have to take calculated risks and be okay with the results not going exactly as you planned.
What advice would you give to others aspiring to succeed in your field?
You have to have a longer-term vision for your career. You can't just focus on composing and recording music, you have to learn the business side of things as well, and you have to treat it like a business. If you want to pursue music as a hobby, that's fine, but if you want it to be a career then you have to think about it as a business. Think about a long-term vision and devise a strategy to achieve it. Everything you do should be moving you closer to accomplishing your goals.
What are some of your favorite things to do outside of work?
I like to build Lego with my son. I find that interesting. I've also gotten more and more into watching Premier League soccer of late. I enjoy outdoor activities where you can get away from it all; things like hiking, skiing, and snowboarding.
How do you maintain a solid work life balance?
In this industry, it's difficult to maintain a solid balance. For example, I tend to be more creative at night and I have my studio at home now, so that blurs the lines between work and home life somewhat.
As a rule, I think it's important that you have objectives for each and every day and accomplish those, but not try to do too much and overwork yourself. In the music industry, a lot of times success—especially early on—is derived from working harder than those around you, but that can be detrimental to your health and mental well-being. It's important to set boundaries and make sure that you're able to switch things off for a portion of the day. It's also important to be present in the moment.
What is one piece of technology that helps you the most in your daily routine?
Digital streaming platforms, or DSPs, like Spotify are amazing. It's a great way to listen to music when you're trying to do work, and I've created some playlists geared towards the part of the day when I need to focus. It's also a great way to discover new music and, for independent artists, DSPs make it really easy to upload your music. However, as an artist, just because you're using the platform doesn't mean people will automatically listen to what you put on there, so you still have to employ other tactics. You can't just upload your work and sit back, waiting to become more popular and to make money from streaming. Overall, though, DSPs are great for music consumers and independent artists.
What is one piece of advice that you have never forgotten?
If you're going to do something, do it. Don't pursue something half-heartedly, whatever it may be—a goal in particular, a career in general, or a hobby. If you're not 100% committed, you typically won't get the fulfillment or results you're seeking. Whenever you decide to do something, make sure you give it the proper dedication of time, perseverance, and effort because there's no sense middling in a bunch of things. Narrow your focus and, when you find something to focus on, give it a valiant effort.
Read more:
Getting to Know You: Neil Kennedy McConachie of Kennedy One, Music Producer