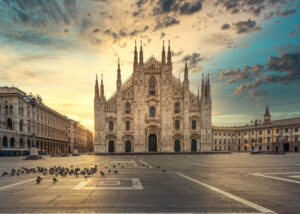 Goldman to move traders to Milan to retain EU Links post Brexit
A small number of London-based derivatives traders at Goldman Sachs are to move to Milan in a further sign of the steady trickle of City workers relocating into the European Union following Brexit.
The changes to Goldman's euro swaps trading desk will further boost the Wall Street bank's presence in the Italian city, where it already has about 80 staff. The job moves, which were first reported by Bloomberg, are yet to be finalised. A spokesman for Goldman declined to comment.
While the number of Goldman traders moving from the desk is thought to be low, the relocations are symptomatic of the shift that has taken place in the City of London since Britain voted to leave the EU six years ago.
London has been used by international banks for decades as the hub for their European operations. The Brexit referendum raised fears that lenders and other financial firms would be forced to move swathes of jobs into the EU so that they could continue to serve their clients in the bloc. This raised concerns about London's status as one of the world's leading financial centres.
Although relocations so far have proved to be much lower than initially feared, banks have, nevertheless, been forced to bulk up their EU operations in cities including Frankfurt, Paris, Madrid and Amsterdam in the years since the referendum. They continue to face regulatory pressure to further increase their staffing levels within the bloc.
The European Central Bank recently scrutinised the way investment banks run their post-Brexit EU outposts and in May warned that most of the 264 trading desks it had reviewed at seven unnamed firms, which were thought to have included Goldman, were essentially "empty shells".
The ECB said that 56 of the desks needed "targeted supervisory action", including better staffing, to assuage concerns. The Bank of England's Prudential Regulation Authority is thought to be watching developments arising from the ECB's so-called desk-mapping review closely.
Read more:
Goldman to move traders to Milan to retain EU Links post Brexit