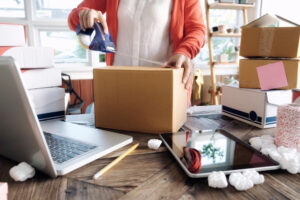 Growing self-storage company invests £50 million into expansion programme
One of the pioneers of self-storage in the UK, Space Station, has taken over the day-to-day running of Fort Locks in Banbury as part of their expansion programme.
The facility, which is owned and has been run by Annie and Nick Poole in Banbury since 2004, will rebrand as Space Station in the coming months.
The 18,600 square foot site is made up of 214 storage units that offer domestic and commercial purpose-built storage that is clean, dry and secure. The new location will showcase a number of the business' new initiatives, such as complementary removal services.
This new management contract takes Space Station's nationwide portfolio up to 13 storage facilities, containing over 5,000 individual storage units across London, Thames Valley, Birmingham and the Midlands.
Since October 2020, when it was acquired by global real estate investment firm, Heitman, Space Station has received almost £50 million in investment, and is set to receive more significant funding in the next five years.
Further expansion is planned for 2023 when Space Station is set to open three more locations – Castle Bromwich, Hall Green and Stirchley, with the goal of becoming a significant operator within the sector over the next five years.
Kevin Prince, Chief Executive Officer at Space Station comments: "We have seen significant positive growth over the past couple of years in terms of personal and business storage with many people looking to make more room in their homes and businesses.
"It is an exciting time for us, and we have big plans for the future, with already three confirmed new locations across the UK in 2023."
Read more:
Growing self-storage company invests £50 million into expansion programme