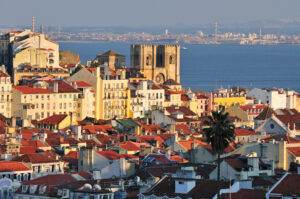 Best Routes for Immigration to Portugal
In recent years, Portugal has become a more and more popular choice for people wanting to move to Europe.
Besides scenic beauty and a laidback lifestyle, the country offers a safe environment, good academic prospects, and a growing business environment.
Portugal is part of the European Union and the 26-country Schengen Area, allowing freedom of movement for its citizens and long-term residents. There are many visa options for gaining residency in Portugal – such as investor visas, work visas, study visas, or family reunification. Below you will find some of the most popular routes for getting a visa in Portugal.
Several reasons for the move to Portugal
There are several reasons you might be moving to Portugal:
Employment opportunities: To get a regular work visa as an employee, you will need proof of a future employment contract to show evidence that you have already found local employment.
Family Reunification: This visa is for anyone who wants to reunite with their immediate family in Portugal (spouse, any dependents such as minor children, or minor siblings).
Study: For people who desire to study or take up any training in Portugal.
Research: Scientific researchers from various fields can apply as part of multiple programs linked with Portuguese universities and organisations.
Investment – By investing in businesses, real estate or making a capital contribution, you can qualify for Portugal's "Golden Visa".
Start a business – There are several visa options for those who want to start a business, hire local employees, or simply as a self-employed freelancer or digital nomad.
Retirement – If you have enough passive income to live comfortably in Portugal, you can qualify for the passive income visa and retire in Portugal.
Some of the most popular long or medium-term visas for Portugal
Portugal Golden Visa
The Portuguese Golden Visa is a five-year residency obtained by somehow investing in the local economy. The options are capital transfer, real estate acquisition, or investments in Portuguese businesses. You must maintain the investment for five years, and then, you are eligible to apply for either permanent residency or citizenship for yourself and your family.
The requirements are:
The person must be a non-EU, non-Swiss, or non-EEA citizen and be 18 years old.
You will need to meet the minimum investment requirements, requiring you to invest between €280,000 and €500,000 is required. Minimum investment thresholds depend on what route you decide to choose to qualify for the visa program
You must stay a minimum of 14 days for each two-year period in Portugal.
D7 Visa
D7 is a residency visa for non-EU citizens with enough passive income to support their stay in the country. It needs to be at least the minimum salary, which in 2022, is €822 per month. It's popular among retirees, investors, and self-employed people, as the income needs to come from outside Portugal.
You'll get the permit for one year, and you can renew for two successive periods of two years. After five years, it's possible to apply for permanent residency or citizenship; however with this visa, you'll have to live in Portugal (at least 183 days per year) to qualify.
D3 Visa
This visa offers fast-track processing for highly-skilled individuals in science, health, IT, or people in senior management positions. You'll be treated as Portuguese citizens, meaning you can use the social security system, banking, and even travel in Schengen countries. At the same time, you'll be required to become a Portuguese tax payer.
It offers all the usual benefits that come with Portuguese residency, including access to the 26 Schengen countries. As you will become a Portuguese tax resident, you can also benefit from Portugal's NHR tax scheme, as jobs considered "high value" are taxed at a flat rate of 20%.
D2 Visa
This visa is aimed at entrepreneurs who have founded a company in Portuguese territories or have a business plan and the capital to set up a company. You'll also need to have financial means for at least equal to the minimum salary of Portugal. The stay requirement in the country is minimum six months.
Startup Visa
This one is similar to D2, but with a focus on innovation. It's more flexible regarding the stay requirement, as officially there is none.
Digital Nomad Visa
This brand new visa type gives the right to reside in Portugal for a year. To qualify, you need to have an income from outside of Portugal that is at least four times the minimum Portuguese salary.
The program is aimed at remote workers and digital nomads, however, it is one of the few digital nomad visas that contribute towards your permanent residency, as most other digital nomad visas only grant a temporary stay for a specific period.
Read more:
Best Routes for Immigration to Portugal