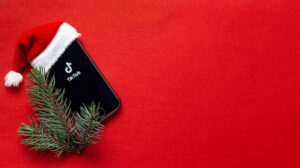 Get on a billion wish lists this holiday season with TikTok for Business
If you run a small business, you're probably eagerly anticipating the busiest shopping period of the year.
With a billion active monthly users globally, TikTok offers a billion opportunities for businesses like yours to get on someone's wish list this holiday season. People all over the UK turn to TikTok to discover trends, recommendations, and their next purchase.
It is no surprise that holiday shoppers rely on TikTok to inspire their next gift purchases.
Indeed, 77% of people on TikTok say that the platform is likely to inspire a gift idea this year.
TikTok has become integral to the shopping experience of many people and, in fact, 47% of people on TikTok have bought something they saw on the platform, while the #TikTokMadeMeBuyIt hashtag has garnered more than 29 billion2 views, making it a powerful tool for shoppers.
These are your potential customers who have already started thinking about what to buy their loved ones — or themselves — before the holidays even kick off.
Indeed, 68% of people on TikTok start their shopping at least a few weeks before the holiday to avoid the stress of last-minute purchases. Although the holiday period has already begun for many, the good news is that it's not too late to start a holiday campaign with TikTok.
Actually, TikTok campaigns can work like a charm at any time of year if you have the right mix.
Take thortful for example – UK's first greeting card marketplace.
They ran a short campaign with large results. thortful needed to attract new customers and build awareness of its wide array of cards and gifts.
The brand tapped into TikTok's popular trends and used humour to showcase their products. The results were indeed magical – they reached over 1.7 million users, with their videos receiving over 4.4 million views.
Looking for the right mix for your business? Check out the Holiday Resource Hub, filled with useful information to help you win the holiday season, including the free Holiday Playbook – your step-by-step guide to the season.
Subscribe to TikTok for Business to get all the latest news, insights and events, providing you with all the tools you need to create powerful TikTok campaigns and unleash your brand's creativity.
Read more:
Get on a billion wish lists this holiday season with TikTok for Business