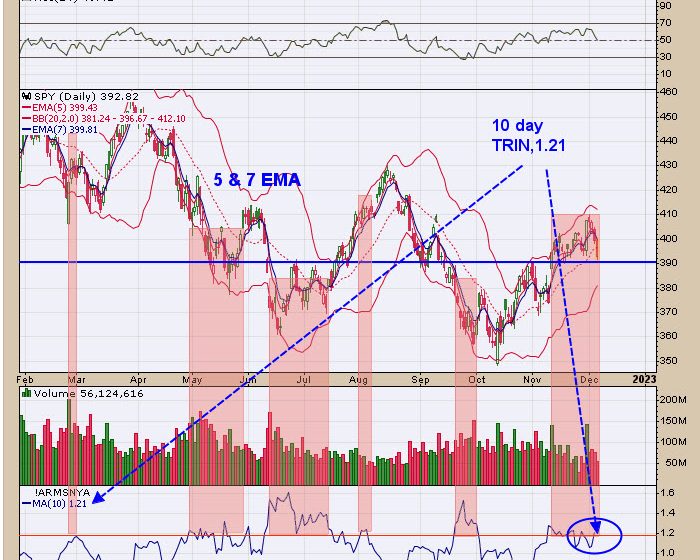 The Ord Oracle December 6, 2022
SPX Monitoring Purposes: Long SPX on 11/10/22 at 3956.27.
Monitoring Purposes GOLD: Long GDX on 10/9/20 at 40.78.
Long Term SPX Monitor Purposes: Neutral.
Yesterday, we said "The 10-day average of the TRIN close near 1.20 appears near short-term lows. The bottom window is the 10-day average of the TRIN close. Readings near 1.20 and higher are usually a bullish sign for the market and below .80 a bearish sign. We shaded in the times where the 10-day TRIN came in near 1.20 and higher and the market is in that region now. Today's TRIN close reaching panic levels helping to push the 10-day TRIN back into bullish levels." The 10-day TRIN closed yesterday at 1.21; the TRIN also closed yesterday at 2.33 and the TICK at -255, which is a bullish combination suggests a low from the same day as the reading to as late as two days later, which would be tomorrow, the "full moon" day. Should be near a low at current prices.
Yesterday, we said "December 7 is also a Full Moon day; Full moon periods can affect the market short-term. This time around it may mark a low." Judging by the trin closes there is enough panic to suggests a low around current prices. The pattern that appears to have formed is a "Three Drives to Top" (noted on chart) which has a downside target to where the pattern began which is near current prices. Last Wednesday had huge volume and today's prices are testing that level now on much lighter volume, which suggests support. The short term pullback appears done and another rally phase may begin shortly.
Tim Ord,
Editor
www.ord-oracle.com. Book release "The Secret Science of Price and Volume" by Timothy Ord, buy at www.Amazon.com.
Signals are provided as general information only and are not investment recommendations. You are responsible for your own investment decisions. Past performance does not guarantee future performance. Opinions are based on historical research and data believed reliable; there is no guarantee results will be profitable. Not responsible for errors or omissions. I may invest in the vehicles mentioned above.