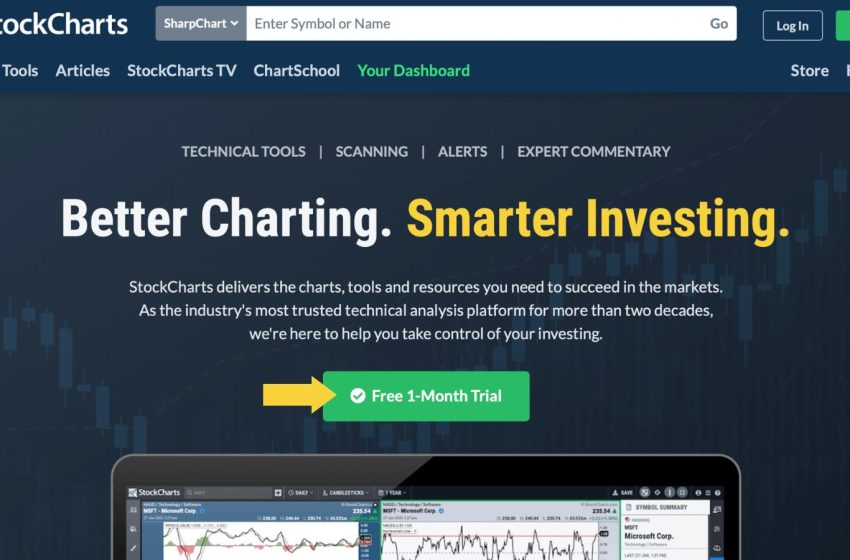 New Members: Secret Hack to Stacking Savings
Now is the best time to become a StockCharts member… seriously.
In the spirit of the holidays, StockCharts is extending a limited-time offer through our Holiday Special, which gives users up to 3 months off. But if you are new to StockCharts, there's a way to save even more.
Here's how…
StockCharts is proud to bring investors the web's best financial charts. We believe in our product so much, that it's actually a requirement for every new user to first go through our free trial, and this is where the magic happens! Right now, new users can stack their free trial with our holiday special offer, which can give you up to 4 months FREE!
To start this process, navigate to our homepage. From here, click the green "free trial" button, located on both the top right corner and at the center of your screen (see below).
Once you've found our trial, our system will prompt you to enter a few credentials through two easy steps. Then, voila! You've earned your first free month.
The next step is where the stack happens…
Now that you're a registered StockCharts member, check your email. We will send you a verification with your login credentials. Follow the directions in your email to log in.
After completing the emailed instructions, return to our homepage.Locate your name in the top right corner and click. A dropdown menu will appear.Select "Your Account."
Doing this will bring up your account page. By entering the free trial, you have automatically been enrolled into our "Extra" subscription, but here is where you can adjust your service level to your needs.
Once you are happy with your service level, you are ready to stack! Click the big green button on your account's page, like so:
Clicking the Holiday Special button will prompt a pop-up. Don't worry! This is exactly what is supposed to happen!
Here is where things get important… In order to stack your free trial with the holiday sale, you will be locked into the service level you choose, as explained above.
Unsure which service best suits your needs? Click here to see a comprehensive list of features included with each level. If you are still unsure, we recommend spending a few days exploring our site and its features to make sure you are completely happy with your service before proceeding.
And that's it! Your free trial month will remain in your account and, depending on the level of commitment you choose, you've just earned up to 4 months of free service!
This type of savings is almost unheard of at StockCharts, and it won't last long. To learn more about the sale, click here.
Make sure you're all set for the upcoming year. Take advantage of this secret stack!
Talk Soon,
StockCharts