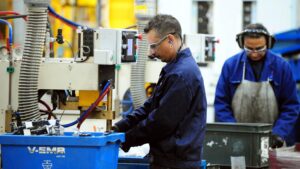 Manufacturers forecast a fall into deep recession
Manufacturing will fall into a deep recession next year as the global economic downturn erodes demand, manufacturers have warned.
More contraction is on the way after industrial output shrank by 4.4 per cent over the past year, according to a survey by Make UK, which represents manufacturers, and BDO, the advisory firm.
This year's fall reflects the boost to manufacturing in 2021 as the world emerged from pandemic curbs, rather than particular weakness. However, the rising cost of supplies, tighter fiscal and monetary policy and a slowdown in consumer demand will lead to a further decline of 3.2 per cent in 2023, according to the survey of 332 companies that was conducted between November 2 and 23.
For the first time in nearly two years, business leaders' attitudes towards investing have fallen into negative territory. The survey of sentiment, which weighs responses based on the strength of feeling and the size of the company to create a figure between -100 per cent and 100 per cent, fell from 7 per cent to -5 per cent.
Separately, the S&P Global/CIPS purchasing managers' index for November showed that the manufacturing sector was in sharp contraction as factories produced less, exported less, employed fewer people and suffered a reduction in orders for new work.
The figures add to evidence that Britain is already in recession. Make UK expects overall GDP to fall by 0.9 per cent next year after expected growth of 4.4 per cent in 2022.
Stephen Phipson, its chief executive, said: "There is simply no sugar-coating the outlook for next year and possibly beyond. Even for a sector as resilient as manufacturing, these are remarkably challenging times, which are testing even the best and most successful of companies to the limit."
He said the chancellor may need to offer companies more support with rising costs, and added: "The bigger issue is that the UK risks sleepwalking into an acceptance that little or no growth is the norm. Government needs to work with industry as a matter of urgency to deliver a long-term industrial strategy that has growth at national and regional levels at its heart."
Richard Austin, BDO's national head of manufacturing, said inflation and falling investment could damage the sector's international competitiveness. "The true impact of inflationary pressures and dwindling investment may not be immediately apparent in the sector, but they will be reflected in longer-term growth," he said. "For instance, with hiring being a challenge and energy prices rising, manufacturers may not have the funds to invest in automation and green initiatives."
Read more:
Manufacturers forecast a fall into deep recession