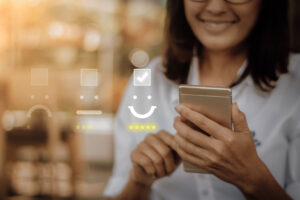 What will the customer experience look like in 2023?
Customer experience is an integral part of any business's success story and taking a strategic approach to it is key.
In line with the emergence of new technologies and processes, as well as with the shifting customer expectations, the customer experience is undergoing a transformation in 2023.
While digital is key to fulfilling customers' expectations, the in-store customer journey is still driving success forwards. According to a recent survey, 61% of consumers still rely on physical stores to purchase the goods they need.
Expert design and graphic company, Novograf, explores the top predictions for the state of the customer experience in 2023.
Taking a Central Approach to Customer Service
Unfortunately, one of the first areas that gets cut down when faced with an economic headwind is customer service.
Nevertheless, this attempt to reduce the budget has proven to be ineffective. While it might have provided a short-term relief in the aftermath of COVID-19 and amidst the ground war crisis, the long-term damage is already showing its effect. The UK Customer Satisfaction Index (UKCSI) shows that the number of customer complaints increased by 2.4% between July 2021 and July 2022, reaching 17.3%. Customer loyalty is also taking a plunge. According to a 2021 survey, 75% of brands could disappear overnight, and most customers wouldn't be bothered, or would easily find a replacement.
Brian Atkinson, vice president and general manager of EMEA, commented: "During times of uncertainty, putting customer service on the backburner is a recipe for disaster.
"Without great customer experiences, there is potential for missed revenue, strained customer relationships, and a lack of ability to respond to customers' needs before it's too late."
While the stats might not be very promising, this can propel businesses to pay extra attention to their customer experience game in 2023. Some are already taking stock of what's happening, as 82% of business leaders believe they will see an increase in their customer experience budgets within the next 12 months.
Creating a Personalised Shopping Experience
Providing generic products and experiences won't cut it anymore. Instead, customers are looking for personalised customer journey based on their individual needs and preferences. According to a RedPoint Global survey, 63% of consumers believe personalisation is a standard for service and are expecting it.
Tapping into the potential data holds for understanding your consumers' behaviour will help you provide a personalised customer experience.
Study your consumer segment through regular surveys and polls and drive insight on your customers' purchasing behaviour via a robust business system. This will help you shape the personalised experience your clients are demanding.
You can also implement this information into optimising your store space to make it more personalised and improve the customer journey. Strategically position the most on-demand products at the areas that attract the most attention. Using internal signs and wayfinders will help you curate the customer journey and direct your customers to those products.
It's also important to create a welcoming atmosphere in your store space that is appealing to your target customer segment. For example, if your target audience is predominantly Gen Zs, then you will want to harness technology and create an omnichannel experience. Adding digital screens will allow you to deliver personalised, location-specific information and advertisements.
Adopting Automation and Chatbots
When we're talking about technology, we must mention the importance of automation and chatbots. They enable businesses to offer a 24/7 support and be there for their customers even outside of working hours.
Chatbots are a great tool that deals with queries in a timely manner, thus contributing to a more efficient service in line with customers' demands for a quick service. As a result, operational costs are reduced and customer loyalty increases.
The successful implementation of chatbots lies in finding the balance between automation and human interaction. While the constant support it much appreciated by customers, they are still craving that human touch from a brand, whether to a speaking with customer support online, via the phone, or face-to-face.
This is the key to facilitating a personalised customer experience that considers the customers central to the business.
To find the perfect balance between automation and human interactions, promote your online self-service but also ensure that your in-store employers are trained and ready to provide the best service possible.
Exceptional customer service is about taking a holistic approach to how you navigate the customer journey. In 2023, embracing personalisation and automation will help you stay at the forefront of the customer experience.
Read more:
What will the customer experience look like in 2023?