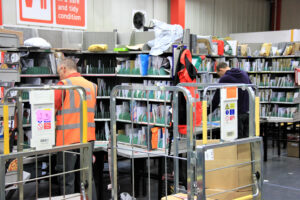 Royal Mail may have lost £200m to strikes
The cost of the continued strike action at Royal Mail may have climbed to £200 million, according to industry estimates, with more loss of revenue set to come.
Last Friday marked the 13th day of action in a bitter dispute over pay and working practices. Royal Mail reported £100 million of strike-related losses after only eight days of walkouts.
Industry sources said that since then the bill would have risen by tens of millions of pounds and could have reached £200 million because of disruption to the Black Friday and Cyber Monday shopping events, as well as the start of the Christmas rush. The hit to revenues comes from rivals taking business or customers delaying use.
Business briefing: Morning and midday updates on financial and economic news from our award-winning business team. One-click sign-up
The cost is set to rise further. The CWU, representing more than 100,000 postal workers, has planned further strikes on December 14, 15, 23 and 24.
A Royal Mail spokesman said: "We have been clear with the CWU from the start that industrial action undermines the trust of our customers. We operate in a competitive market and our customers have choices. Continued strike action will force our customers to make those choices sooner rather than later.
"Strike action has already cost our people £1,400 each and is putting more jobs at risk. The money allocated to the pay deal should be going to our people, but it risks being eaten away by the costs of further strike action."
The dispute began this summer after Royal Mail rejected union demands for a pay rise that matched inflation, now at 11.1 per cent. Its latest offer of up to 9 per cent was rejected. It says it needs to modernise and may need to cut up to 10,000 jobs by August.
Dave Ward, the CWU general secretary, said last week that Royal Mail bosses were "risking a Christmas meltdown" because of the dispute.
Read more:
Royal Mail may have lost £200m to strikes