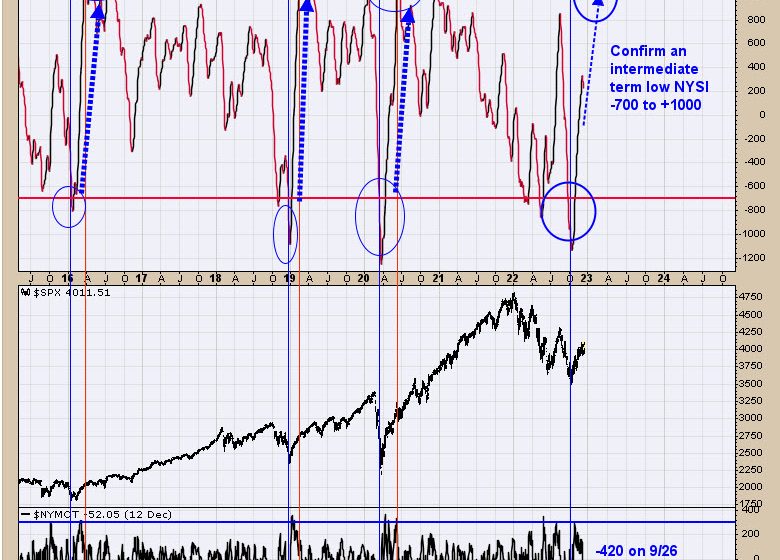 The Ord Oracle December 13, 2022
SPX Monitoring Purposes: Long SPX on 11/10/22 at 3956.27
Monitoring Purposes GOLD: Long GDX on 10/9/20 at 40.78.
Long Term SPX Monitor Purposes: Neutral.
We have updated the chart and statistics from yesterday. A sign that a bullish intermediate-term rally is starting is for the NYSE McClellan Summation index to reach capitulation (reading below -700) and then rally to +1000 to show a "sign of strength); that takes around two months to complete. Summation index reached below -1000 in early October and is now moving higher; it reached +227 Monday, which is +773 away from reaching +1000. The plus-two-month period started October 7, and we are just past the two-month mark. Sometimes, the capitulation to "Sign of Strength" can take longer then two month,s and that appears to be is what happening here. What needs to happen is for the current rally to continue; if it doesn't, then the Summation index will not reach +1000 and the intermediate-term rally will be in question.
On November 30, the SPY tested the open gap (shaded area) of September 13 on higher volume, suggesting the gap does not have resistance and may be exceeded. Today's trading had a huge gap open, which then closed before the market close. Today's trading tested the previous high on higher volume, suggesting, at a minimum, that today's high will be tested again and could continue to rally higher. The FOMC meeting is tomorrow and the announcement is already baked into the cake. Could be a gyration, but, ultimately, should work higher. The bottom window is the 10-day average of the TRIN, which stands at 1.14 and leans bullish. Today, the TRIN closed at 1.33 and the TICK at -442, which is a bullish combination and suggests the rally may continue. December's Option expiration week is up 75.76% of the time, the highest percent of the twelve option expiration weeks.
Tim Ord,
Editor
www.ord-oracle.com. Book release "The Secret Science of Price and Volume" by Timothy Ord, buy at www.Amazon.com.
Signals are provided as general information only and are not investment recommendations. You are responsible for your own investment decisions. Past performance does not guarantee future performance. Opinions are based on historical research and data believed reliable; there is no guarantee results will be profitable. Not responsible for errors or omissions. I may invest in the vehicles mentioned above.