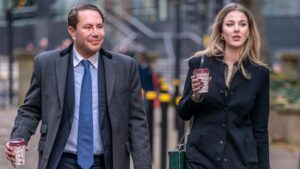 James Stunt cleared of forgery but faces money-laundering retrial
James Stunt, the socialite and former son-in-law of Bernie Ecclestone, faces a retrial over his alleged role in a £260 million money-laundering scam after the jury failed to reach a verdict.
Stunt, 40, who was married to the British model Petra Ecclestone, 33, for six years, was also found not guilty of forgery at Leeds Cloth Hall court.
He was one of eight defendants on trial over an alleged criminal network under which, prosecutors said, £266 million was deposited in the bank account of the gold dealership Fowler Oldfield from 2014 to 2016.
Four of the defendants were cleared of money laundering: Paul Miller, 45; Heidi Buckler, 45; Alexander Tulloch, 41; and Francesca Sota, 34. The jury was unable to reach verdicts on the money-laundering charge against four others including Stunt. They now face retrial.
Stunt married Petra Ecclestone in 2011. The couple had three children before divorcing in 2017.
In October the court was told that during Stunt's alleged involvement with the scam he posed for photographs with the King. Between 2014 and 2016 he gave £140,000 to charities run by Charles, then Prince of Wales, the court was told.
Stunt claimed to have had several high-profile visitors to his Mayfair office, including David Cameron, who was prime minister at the time, and Middle Eastern royalty. Stunt at one stage told the court: "I knew the prime minister intimately." A retrial date is yet to be announced.
He previously told the court he had become a "reclusive pariah" after the judge froze his bank accounts. Stunt claimed the order left him bankrupt and homeless. The decision to freeze his assets was a "draconian act", Stunt said.
Asked by Nicholas Clarke KC, for the prosecution, about his claims during evidence that the seizure of his assets was illegal, Stunt said: "When I say 'illegal', yes, OK, that's semantics: highly unethical, immoral."
Clarke said that rather than being "homeless", arrangements were made for Stunt to live in a five-storey property in South Kensington that had six bedrooms and a cinema room, and cost £9,995 a month in rent. Stunt said: "Yes, after three months my father decided to help out his son, and it's humbling. I was homeless for three months."
Read more:
James Stunt cleared of forgery but faces money-laundering retrial