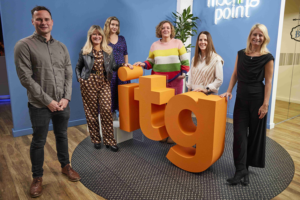 Team ITG buys Emerald Thinking Group to accelerate data capabilities
The technology-led, multichannel marketing activation business Team ITG it has acquired Emerald Thinking Group, a data-driven customer experience agency.
Emerald, which already works alongside ITG on major brands such as Wickes, has been purchased from current shareholders Red Brick Road for an undisclosed sum.
The deal will see Emerald's lead consultants, which include data scientists, data planners, and cultural analysts join ITG's existing global workforce of 1,200 employees, boosting the company's data credentials. As part of the agreement, Emerald director Claire Aldous has been appointed to a newly created role of Head of Data & Analytics at ITG.
Previous collaborations between the two firms have seen the creation of the 'Missions and Motivations Engine' – a machine-learning model designed to tap into the behaviour-change side of the brain, which added £7m of value to Wickes' bottom line in its first wave of programmes alone and enabled the brand to win a major industry award.
Sue Mountford, Team ITG CEO, said,  "The Emerald team are the perfect addition to the ITG family, bringing expertise in human insights, data science and transformational strategies as we further bolster our capabilities for clients. Our joint work with Wickes delivered award-winning programmes and this acquisition will allow both teams to continue working together under one brand. We are excited to welcome Claire and the team to join us on the next stage of our journey, which will enable us to continue to deliver high impact, data-led transformation programmes and experiences for our clients around the globe."
Gary Kibble, Chief Marketing & Digital Officer at Wickes, added, "The work ITG and Emerald delivered for Wickes was a complete game changer for our brand. Many creative agencies come up with the big ideas, but few can deliver it with such excellence. We wholeheartedly congratulate the two companies on this new collaboration and look forward to continuing our relationship in the future."
Claire Aldous, newly appointed Head of Data & Analytics at ITG said, "This is a huge moment and an exciting opportunity for our team. ITG has long been a valued and trusted partner of our business, with its technology-led model perfectly complementing the sharp focus on human insight that sits at the heart of our approach. We're excited to be joining such an incredible global company, bringing the very best in class data insights to brands."
Founded in 2009, Team ITG is a technology-led, multichannel marketing activation business, working with an impressive client list that features world-renowned brands such as GSK, Jaguar Land Rover, Heineken, PUMA, Currys and many more.
Its disruptive martech platform, Storyteq, formerly known as CanopyCloud, is supported by its 24-hour creative production studio and award-winning client services ranging from strategy, creative and creative production, to performance marketing and TV, film and photography in a new 30k sq ft state-of-the-art 'capture' facility. This blended model of technology and services allows Team ITG to rapidly deploy bespoke solutions built around individual client needs; all aimed at delivering efficiencies and creating fast, agile marketing partnerships that produce impressive results across all channels.
Read more:
Team ITG buys Emerald Thinking Group to accelerate data capabilities