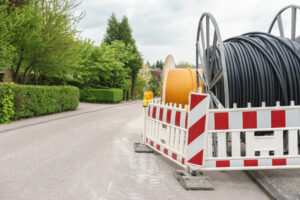 Britain falling behind with full-fibre broadband roll out
Britain still lags behind many European and Asian countries in the fastest broadband despite a record pace of rollout, according to Ofcom's annual Connected Nations report.
Full-fibre broadband is the gold standard for delivering fast internet speeds of up to 1 gigabit per second that enable households to download a one-hour high-definition TV episode in eight seconds.
In the past 12 months 4.3 million more premises have been hooked up to full fibre, meaning that 42 per cent of the population, or 2.4 million homes, now has it.
Despite the highest year-on-year increase, the UK still lags behind Spain (89 per cent coverage), France (63 per cent) and Italy (44 per cent), according to 2021 figures. Asian countries like Singapore, South Korea, Japan and China have almost 100 per cent coverage. Only Northern Ireland in the home nations comes close, with 85 per cent.
Britain's lag in full fibre is partly because operators concentrated on rolling out other broadband technologies that have now been superseded.
Full fibre is seen as crucial for supporting economic growth and future-proofing the nation as businesses demand more bandwidth, people use video calls to work from home and more families embrace gaming.
However, it appears that households are still reluctant to embrace it, with only a quarter signing up when it is available in their area.
This is being blamed on people being tied into current contracts and poor communication about its benefits and pricing. Many households may think they don't need 1 gigabit/s (1,000 megabits) speeds but most full-fibre operators offer lower speed packages. Analysts suggest about 10mb/s per person in a household, although more if they are keen gamers. About seven million households are currently out of contract, Ofcom estimates.
The UK is also more expensive for broadband and phone packages than its European counterparts, Ofcom says. Only the US is more costly, with monthly packages of £75 on average.
There remains a stubborn minority of 80,000 households in rural areas that don't have access to any decent broadband. Ofcom is confident that satellite broadband may offer a solution to them and the government is currently doing a pilot scheme using Elon Musk's Starlink satellites for some areas in the UK.
The Conservatives' manifesto commitment was to deliver nationwide "gigabit-broadband" by 2025, but this has been pushed back to 2030. Gigabit broadband is available to 70 per cent of the UK as Virgin Media's network also delivers this speed but through a different technology to full fibre.
However, there are worries that the pace of rollout could slow as the expanded broadband market hits economic realities. The number of operators has ballooned from about 15, four years ago to about 80 or 90 now.
Oliver Johnson, chief executive of Point Topic, the broadband analysts, said: "Full fibre progressing satisfactorily, although we're expecting to see more headwinds as finance gets more difficult as well as some of the overheated competition from the last few years starts to play out."
Andrew Ferguson, lead data scientist and editor at thinkbroadband, said: "We're building the networks faster than anyone really ever expected. The key move now is to continue building. But we also do need to pay attention to getting people to actually sign up. Two reasons: full fibre is a lot better, a lot more reliable. The other bit is it allows you to retire old technologies that are expensive for the companies to maintain."
Ofcom also said that 5G mobile coverage was increasing. Around seven in ten UK properties are in areas where 5G is available from at least one mobile network operator, up from about half last year.
Read more:
Britain falling behind with full-fibre broadband roll out