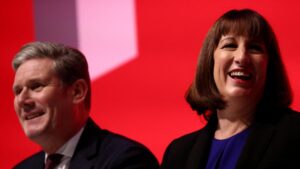 Business donors back Labour for first time
Bosses and companies are donating to Labour for the first time as the party seeks to build its funds and credibility with the business community before the next general election, Electoral Commission records suggest.
They include the family behind River Island and the heads of industrial, investment and media companies and businessmen who previously donated to the Conservative and Liberal Democrat parties.
Labour, which still relies heavily on the unions for large regular donations, has started a charm offensive to woo business after years in the wilderness under Jeremy Corbyn. The party has been galvanised by taking a dramatic lead in the polls after Liz Truss's disastrous mini-budget.
Hundreds of thousands of pounds have been raised from business donors who have not backed the party in recent years, according to the commission's records, which date back to 2001, when it was established.
They include Clive Lewis, chairman of River Island and Blue Coast Capital, his family's investment vehicle. Lewis, 66, donated £100,000 to the Labour Party in August.
Fred Story, 66, the chief executive of Story Homes, a housebuilder based in Carlisle, who backed the Brexit campaign, also donated £100,000 in September. His company backed John Stevenson, the local Conservative MP, five years ago with a small non-cash donation and George Osborne visited the company's new head office during the 2015 general election campaign.
Gary Lubner, 63, the outgoing chief executive of Belron, a vehicle glass repair and replacement group based in Egham, Surrey, which owns the Autoglass brand, donated £100,000 in April. This was followed by a £42,000 donation in June to pay the salary of a staff member in the office of Rachel Reeves, the shadow chancellor.
Richard Flint, former chief executive of Sky Bet and a non-executive director of Flutter Entertainment, the FTSE 100 owner of Paddy Power and Betfair, donated £35,000 last year, including £10,000 to Reeves. They are thought to be the first significant donations Flint has made to Labour. He previously donated £5,000 to the Lib Dems in Yorkshire in 2019.
Matthew Slotover, 53, the co-founder of Frieze, a media and events company, donated £50,000 in April and Wayne McArdle, 64, the chairman of Conduit Capital, a London-based investment manager, donated £10,000 in July.
All the donations were made in a personal capacity.
The Labour leadership hosted a business conference at Canary Wharf, the financial centre in London's Docklands, this month that was attended by senior business figures including John Allan, chairman of Tesco and Barratt Developments, who has talked up the prospect of a Labour government, and Amanda Blanc, chief executive of the insurer Aviva.
Kasim Kutay, the chief executive of Novo Holdings, a life sciences investor, who moderated a panel at the conference with Jonathan Reynolds, Labour's shadow business secretary, has donated £25,000 to the party this year. He gave the same amount to the Conservative Party in 2008.
Labour also received £100,000 from Jill Whitehouse, a businesswoman, and her husband, Gareth Quarry, an entrepreneur and long-standing director of the legal recruitment consultant SSQ and a former Conservative donor. Quarry, 63, revealed in The Times in October that he was defecting to Labour in protest at the "zealots" running the Tory party.
Other companies that have donated to Labour recently include Pod Property Group, a Warrington-based property development company, founded by Shehzad Khan, 41. The company donated £10,000 to the party in March, the same month it sponsored Labour's northwest gala dinner, which was attended by Sir Keir Starmer, the party leader, and the former footballer and TV pundit Gary Neville.
Labour has also attracted backing from previous business donors who had opposed Corbyn. W Marketing, a communications company based in Co Durham, owned by Sean Wadsworth, the chairman of the W Series motor racing championships, gave £50,000 in March, having already donated £50,000 in June last year. Wadsworth, 51, donated to Owen Smith's Labour leadership campaign against Corbyn in 2016 and the Labour Together movement in 2019.
Labour recently appointed the media mogul Lord Alli as chairman of its general election fundraising. Lord Levy, Sir Tony Blair's former fundraiser, has donated a total of £25,000 this year.
Kutay, 57, said Labour under Starmer had "demonstrated an understanding of the challenges facing the UK, is taking the time to listen to business and has formulated an industrial policy strategy, with a focus on getting the UK back to growth".
Quarry said: "Unlike the disastrous uncertainty of the last 12 years, a Labour government's industrial strategy, green prosperity plan, replacing of business rates with a fairer form of business property taxation, inspires confidence and will provide the stability and certainty I need as an entrepreneur to decide where to invest."
A spokeswoman for Labour said: "Donors are coming back to Labour because they can see we are a changed party that is serious about getting into government and building a fairer, greener, more dynamic Britain."
The party matched the Conservatives for donations in the third quarter this year, commission data released this month showed. Both parties raised about £2.8 million from July to September, a period that spanned the fall of Boris Johnson and the rise of Truss.
Labour still relies heavily on cash from the biggest trade unions. It received more than £725,000 from Unite, almost £300,000 from the GMB and almost £200,000 from Unison.
Read more:
Business donors back Labour for first time