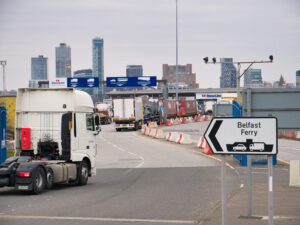 SME's call for reforms to break 'shackles' of post-Brexit EU trade deal
Britain's Brexit trade deal is failing to help more than three quarters of companies increase sales or grow their business, according to a new survey from a leading business group.
The Trade and Co-operation Agreement (TCA) was settled on Christmas Eve 2020 to facilitate tariff-free trade with the EU. But a high proportion of firms are still having "major problems" trying to use the deal, the British Chambers of Commerce (BCC) has found.
The business group, whose members employ almost six million people in the UK, has sent the government a report outlining a series of recommendations to increase UK-EU trade.
These include creating a supplementary deal with the EU that "either eliminates or reduces the complexity of exporting food" for SMEs; setting up another supplementary deal, this one similar to Norway's, that exempts smaller firms from the requirement to have a fiscal representative for VAT in the EU; and allowing CE-marked goods and components, which are approved for sale in the EU, to continue to be used in Britain after 2024.
The BCC also wants side deals to be struck with the EU and member states to allow UK firms' staff to travel for longer and work in Europe, and an agreement to be reached on the future of the Northern Ireland protocol with the European Commission early next year, to stabilise trading relations.
In the survey, 92 per cent of which were SMEs, 56 per cent said they face difficulties adapting to the new rules for trading goods.
Shevaun Haviland, the BCC's director-general, said that with "a recession looming, we must remove the shackles holding back our exporters. If we don't do this now then the long-term competitiveness of the UK could be seriously damaged. It is no coincidence that during the first 15 months of the TCA, we stopped selling 42 per cent of all the products that we used to."
She added: "The longer the current problems go unchecked, the more EU traders go elsewhere, and the more damage is done. There are clearly some structural problems built into the TCA which cannot be addressed until it is reviewed in 2026. But there are some issues that do not need to wait on months of negotiations."
Trade data from the Office for National Statistics last week showed that total exports of goods decreased by 4.7 per cent in October, with exports to both EU and non-EU countries falling.
One manufacturer in Dorset told the BCC that Brexit has been "the biggest-ever imposition of bureaucracy on business. Simple importing of parts to fix broken machines. The EU has become a time-consuming nightmare for small firms, and Brexit-related logistics delays are a massive cost when machines are stood waiting for parts."
Parliamentary committees have been scrutinising the trade agreement.
MPs on the international trade committee are examining whether there is likely to be significant change to the terms of trade, whether they could be improved and what more the government could do to boost trade flows.
Jeremy Hunt last month ruled out changing the trade deal with the EU, after demands from business groups to make it easier to recruit staff from abroad and remove trade barriers.
A government spokesman said: "The TCA is the world's largest zero-tariff, zero-quota free trade deal. It secures the UK market access across key service sectors and opens new opportunities for UK businesses across the globe.
"The UK has provided exporters with practical support on the implementation of the TCA."
Tim Goodall, Managing Director of small business www.islabikes.co.uk, spoke about how Brexit has affected the business' sales and shipping, as well as its impact on long-term relationships and customer service, saying: "Pre-Brexit, sales of bikes to the EU accounted for just over a quarter (26%) of their annual sales, whereas year-to-date figures for 2022 show they accounted for just 5% (an 80% decline). Islabikes even stated that since the day the UK left the EU, their EU orders all but dried up, with prices to export rising exponentially for EU customers and the costs of import duty and shipping now being passed onto them.
"Import duty now sits at 14%, a massive shift compared to the lack of any import duty pre-Brexit, when there was free trade with the EU. The cost of exporting a bike then was between £35 and £50, depending on the size of bike and the country it was going to, but now it typically costs between £100 and £125, on average. Islabikes have to pass on these costs – duty and shipping – to their EU customers.
Read more:
SME's call for reforms to break 'shackles' of post-Brexit EU trade deal