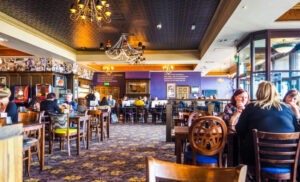 Train strikes 'could cost hospitality sector over £1.5bn' in lost sales
Rail strikes could cost the hospitality sector more than £1.5 billion in lost sales amid an epidemic of cancelled bookings and customer no-shows.
Some regions have reported shortfalls in takings of at least 40 per cent last week, normally the busiest week of the year for office parties as well as a peak period for Christmas shopping.
Takings at pubs and restaurants in central London tumbled to almost half pre-Covid levels during last week's run of strikes and businesses are bracing for further disruption early in the new year.
Kate Nicholls, 52, chief executive of UKHospitality, the trade body, said the rail strikes throughout December could cost hospitality businesses as much as £1.5 billion in lost sales. "The most severe impact we're seeing now is on consumer confidence and the growing cancellations businesses are seeing as a result of the strike," she said.
David Moore, 58, proprietor of Pied à Terre, London's longest-standing Michelin-starred restaurant, said: "Last week was a disaster. It would normally have been our busiest week, but only Thursday [a non-strike day] was busy."
He said last week was down more than a third on what he had expected, with lost sales totalling £30,000. "We're probably short £100,000 across all the train strikes we've had so far, but of course there's more to come," he added. Big corporate bookings failed to materialise as office workers had not bothered trying to make it to work, while the World Cup kept potential customers away from restaurants.
One of the few positives, Moore said, was the return of tourists, with American and French visitors particularly noticeable. He resolved staff shortages of a few weeks ago, mainly by advertising for workers in Ireland.
Shops are also suffering, with the British Retail Consortium saying that they are losing billions of pounds on the back of a 21.5 per cent fall in the number of shoppers throughout the country last week.
One rail union is planning further strike action from December 24 to 27, impinging on last-minute Christmas Eve shopping and family visits. Strikes are also set for December 28 to 29 and most of the period from January 3 to 7.
Sarah Willingham, 48, chief executive of Nightcap, the quoted owner of 36 bars, said: "After three stolen Christmases and the economy on its knees, the government should not allow this to happen."
Read more:
Train strikes 'could cost hospitality sector over £1.5bn' in lost sales