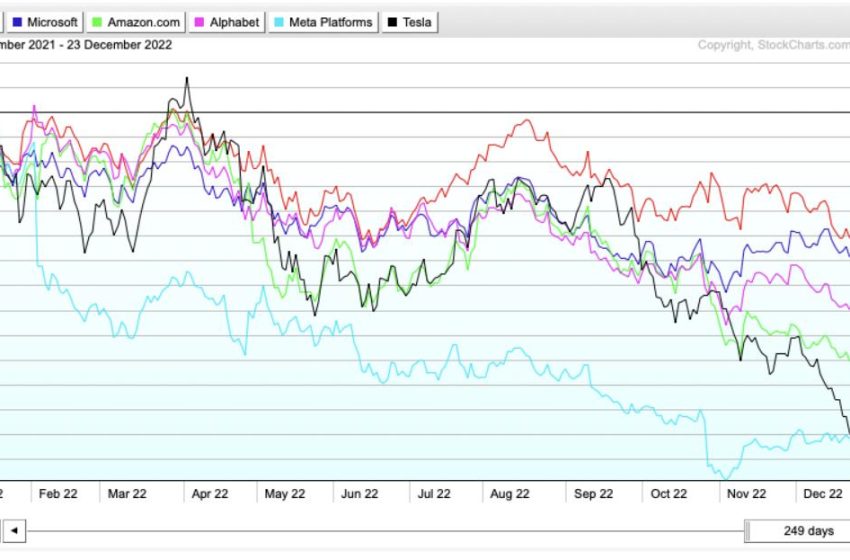 A Chilly Ending
The stock market has always come up with ways for challenging investors. What seems to be so obvious rarely works out, and what seems to be irrelevant surprises you months later with a chart from the bottom left to the top right.
The Nasdaq is now the qadsaN index, as it spent the year going backward. All the mega cap names were sold off.
The electric bears have been taking a swipe at the electric car business for a while, but they picked up speed, swiping 68% off Tesla. They have taken a lot more percentage from other EV names, but Tesla was by far the largest market cap value change. A year ago, we couldn't get Tesla bulls off the podium. Meta and Alphabet got shellacked, along with the rest of the communications business. Amazon dropped 50% after maintaining a big price/earnings ratio for years. Microsoft and Apple also dropped meaningfully. I am not sure anyone expected the extent of the selling in the special six.
One of the things I am surprised about is how the Nasdaq is only down 30%, despite the juggernauts being down so much. There are actually a full 25 Nasdaq 100 stocks positive on the year! I know, that surprised me too.
Professional Management
So the rotation under the surface has been massive. All those long term portfolio strategies would be interesting to review. Were they able to adjust for the selling in the large caps, or too stubborn to change? This is a year where technical analysis should perform better than the fundamental analysis. Everybody's boat rises in a bull market.
ARKK
I think the ARKK chart set a record for an ETF this year, and had a SCTR ranking below 10% for the whole year. Most of the year, it was the worst 1%. Yet it still attracted capital inflows. That is remarkable story-telling. Yes, I never want to short innovation, but it should be priced right before I invest in it.
For me, just a few weeks ago, I published an article about the oil stocks breaking down. There is a reason we look at the charts every week. When things change, we need to change as well. I will be discussing that area of the market in my weekend newsletter, and you can see everything we do at Osprey Strategic for just $7 for the first month.
Have a wonderful holiday season and let's hit it hard in 2023!