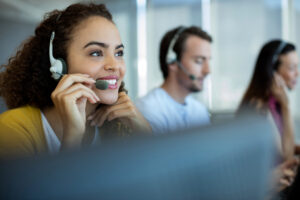 Outsource customer support impress British customers in 2023
It is now critical to deal with customer queries quickly and efficiently.
Today's consumer is far more sophisticated than their predecessors and gauges your service on more than how quickly your consultants answer the phone.
According to the July 2022 UK Customer Satisfaction Index, 35% of Brits would pay more for excellent service, while only 12% prioritize price. If there was ever a time to outsource customer support, it is now.
Today, the average consumer expects companies to meet them in their chosen arena. They want multiple access channels, including phone, email, social media, and instant messaging. Managing several platforms at once is challenging, so it makes sense to outsource customer support.
Satisfying your clients relies on careful handling of all communication channels in terms of the following priorities:
The complaint's outcome: Clients require a speedy resolution of their queries, but they will allow consultants a reasonable amount of time to resolve issues. That is, as long as the consultant does solve the complaint.
How the consultant handles the complaint: What is interesting is that clients are less understanding when it comes to how your consultants handle the complaint. Clients feel that their query is in good hands if a consultant handles things professionally. If not, they tend to become more uneasy and may be more demanding.
Your staff's attitude: The highest determination for customer satisfaction is your staff's attitude. While inexperience will annoy most clients, they are more willing to forgive it if the consultant is pleasant, professional, and helpful. If the consultant lacks these qualities, it's likely to be game over.
How quickly you resolve the complaint: Another reason to outsource customer support is to resolve complaints promptly and efficiently. Having a dedicated team makes it easy to control complaint resolution techniques and hone them to improve efficiency.
As you can see, Brits are becoming more discerning regarding customer service. Considering the number of choices they have, it's hardly surprising. If you do not meet their expectations, they will find a company that will.
Fortunately, it need not get that far. With the proper outsourcing support, you can drastically improve your service levels cost-effectively.
Why Outsourcing Makes Sense
The short answer is that outsourcing grants you access to services at a low cost. You can instantly improve communications with clients thanks to the following:
24/7 support for clients to reach out when convenient for them
Multilingual consultants give your business the edge in our multicultural society
Professional consultants with superb communication skills soothe frayed nerves and make clients feel valued
State-of-the-art communication equipment improves call management and prevents dropped calls
Robust customer relationship management software ensures that clients receive the follow ups they deserve
Efficient workflows develop faster because of the dedicated nature of the support
Instant scalability means being able to expand faster or take advantage of season changes
When you also factor in the increase in employee satisfaction and the drop in operating costs, outsourcing is a win/win on every level.
However, there is a caveat here. Outsourcers today are a dime a dozen due to the lucrative nature of the business. Therefore companies should carefully evaluate any firm with whom they wish to partner.
If they are willing to do the proper research upfront, companies can form lasting, mutually-beneficial partnerships with the right outsourcing companies.
Conclusion
When you outsource customer support, you entrust a critical function to a trusted partner. Naturally, it's frightening for some companies to relinquish this level of control. However, it need not be if they take steps beforehand to vet the company with whom they wish to deal correctly.
Read more:
Outsource customer support impress British customers in 2023