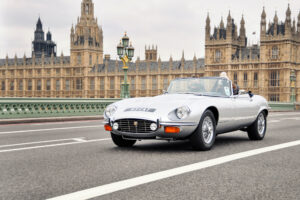 Classic car owners are giving smart motorways the cold shoulder
The owners of classic cars are avoiding smart motorways and taking long detours because of the fear of being hit if they break down in a live lane.
Drivers of cars made more than 25 years ago said motorways without a hard shoulder held "too many risks" because their vehicles' age makes them over-susceptible to mechanical failure. Instead, they resort to much longer journeys to bypass the roads, which are 10 per cent of the motorway network.
Edmund King, president of the AA, said that the government should "go back to the drawing board" and bring back the hard shoulder.
Alan Hames, 80, a highways engineer for 50 years before his retirement, said that he takes detours to avoid smart motorways when driving his Jaguar E-Type V12 Roadster, made in 1972. These added 26 miles to a return trip from his home in Northamptonshire to a recent rare-car event in London via the M40, which has a hard shoulder, rather than the M1, which does not.
"I know many other classic car owners who take long detours to avoid these smart motorway death traps," he said.
"Our classics are well looked after but cars like mine are not as reliable as modern motors. At least a hard shoulder gives drivers the option of getting to relative safety. I see this new, dangerous situation as stealing the safety of 'my' hard shoulder that I helped design and construct in 1962."
Smart motorways use various methods to manage the flow of traffic, such as converting the hard shoulder into a live running lane and issuing variable speed limits.
Gaynor Cauter, the editor of Jaguar Driver magazine, said: "I hear regularly from drivers who are so frightened of breaking down on smart motorways that they make every effort to avoid them. I include myself in that number.
"However, on some journeys, they are almost impossible to avoid."
Alice Kimberley, 61, from Wiltshire, said: "I have been driving my classic Mazda MX5 fearlessly for 30 years but now I am concerned about venturing out on the M4. I try to avoid smart motorways if I can."
In January the Department for Transport halted the development of motorways without a hard shoulder until five years of safety data has been collected for schemes introduced before 2020.
King said: "The rollout of new smart motorways has been halted but urgent action is needed on the current confusion. Reinstating the hard shoulder and enforcing better lane discipline might just do the trick."
Read more:
Classic car owners are giving smart motorways the cold shoulder