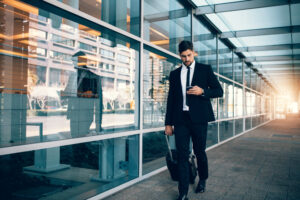 10 Tips for finding cheap business class tickets to Europe
When does the journey begin? The moment you get in the taxi heading towards the airport or the passport control? The moment the plane touches the ground or you finally reach the first sight?
According to the randomly asked tourists, neither answer is correct, as a sweet feeling of anticipation comes right when the plane takes off. However, this feeling is heavily dependent on your comfort: extra legroom, world-class cuisines, toiletries vs limited space, and costly foods, and drinks.
Business class has always been considered only for the chosen ones, and many people prefer economy class claiming that class makes no difference. Though, after trying the business class at least once, it's quite difficult to 'tolerate' anything else. Business class is not always an accessible option due to various reasons yet there are ways to reach it without spending a fortune.
Aiming to find out how to get business class fares to Europe, we have selected and tested the best methods you can follow:
1.   Flight Search Engine
The ticket search starts from popular aggregators like Kivi, Momondo, Google Flights,  Skyscanner, etc. These are the best helping tools, as instead of searching through every airline, you get a big picture at once. You are offered the shortest, the quickest, the cheapest flight, direct and combined options. Basically, you can see a clear picture of all the available flights, dates, and fares and can choose from the available ones.
2.   Check the official website
After choosing a suitable flight, it's worth looking at the fares on the official airline website, as the offers may vary in price. Besides, a few airlines may offer business class discounts only on their website.
3.   Discount Alerts
There are just few people who enjoy getting emails from their subscriptions, yet the airline options are worth checking, as they can offer discount codes, personalized options, and cheap fares. Simply saying, you get an opportunity to stay tuned all the time and catch the best deal the moment it appears.
4.   Incognito Mode
Some people consider the incognito-mode price as a myth, however, it's just the way the system works. Every website collects cookies that help to define the booking pattern and then the local 'scheming' starts. After a few regular visits through the browser, a user will have a personal rise in payment.
To avoid being caught in this net, it's better to use incognito mode, which is available in every browser, as it lets us use the internet without our information being stored and activity history tracked.  Besides, it's worth using another browser or a different IP address.
5.   Let the flexibility in
This piece of advice can only be applicable to those who aren't restrained by a rigid schedule. Flexibility in dates suggests more options, and thus, it's easier to find the best value for money. Sometimes only days and weeks matter, sometimes even months. So, instead of planning the vacation and then looking for matching tickets, do the other way around.
6.   Small talk in the airport
Occasionally, there's a chance to buy a business seat at almost-no-cost as not all of them were sold in advance. Typically they are offered at the check-in counter and it's worth asking the assistant about existing options. Such last-minute deals don't happen frequently and it's just a matter of luck, yet it's important not to be afraid to enquire about it. That's where your soft skills come in handy, as your charisma, a skill to communicate and make connections with people can be decisive.
7.   Loyalty program
A loyalty program is always a good idea. It has special offers and promotions for clients, an accumulation of flight mileage, bonuses, and a motivation system. This option is most suitable for those who are bound to travel a lot, due to professional needs, or just regular travelers.
8.   Bank offers/Vip service
Airports and airlines often cooperate with specific banks or banking systems, offering discounts for users. Surely, there's a list of conditions in order to apply, and the most common is the minimum amount of money spent within a certain period of time. It's important to check the terms and conditions to understand what perks can be received.
9.   Early to bed, early to rise, better the price
It's not a secret that early booking offers good value for money despite the class of the journey. However, advanced timing isn't counted in years. As a rule, this period starts four months before the flight and finishes three weeks prior to the flight. By tracking the change in price, there's a high chance to get what you need at the sweetest price. However, don't forget about the incognito mode, as the trick will not work.
10. No Crowded Hubs
Big international airports are mainly located within the city line or just outside, offering comfortable landing right where you need. However, there's a price to pay for such a commodity. It's always worth checking the airports in the neighboring town, as the price of business class and city transfer may be the same as the economy flight to a big hub.
Yet another option is to check – cooperation with hotels. As they can offer free transfers which can make up for the business class ticket.
Gone are the days when business class seemed unreachable. With several quite easy actions, everyone can experience a comfortable flight without over limiting the budget.
Read more:
10 Tips for finding cheap business class tickets to Europe