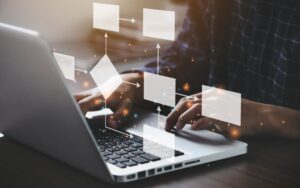 Designing Workflow Diagrams: A Step‐By‐Step Guide
Every business aims to streamline its operations so it can emerge as the leading brand in a competitive consumer market.
As a result, they look for methods to simplify and enhance their business projects to ensure quality work by every worker on board.
An ideal way to achieve increased connectivity and productivity is workflow diagrams. These diagrams online can bring a constructive change in your business operations and their results.
This post discusses workflow diagrams and how you can improve business efficiency by implementing them in your business processes.
Let's get started.
What Are Workflow Diagrams?
Workflow diagrams are a graphical representation of a business project. They use symbolic shapes as a flow chart diagram to lay out the process from the start to the end. They use a linear approach to display your business project, indicating conditions or courses of action needed at a given stage.
Workflow diagrams optimize your business processes to give real-time results. They provide a bird's eye view by displaying the step-by-step process of your business projects. This breaks down complex tasks into simpler sub-task that can be assigned to different team members based on their knowledge and skill set. As a result, workflow diagrams offer exceptional accountability and transparency.
Although it may sound like a buzzword gimmick, the simplified visual representation of business processes is highly advantageous for your business growth.
Surveys have revealed that 67% of companies focus on improving end-to-end visibility across different systems using business process automation solutions like workflow diagrams.
The benefits of workflow diagrams have made them necessary tools for businesses across all industries. The following are the advantages of using workflow diagrams:
Increased speed
Quality assurance
Workplace satisfaction
Smooth and streamlined business operations
Reduction in the chances of error
Opportunities of improvement
Encourages exceptional teamwork
Transparency and clarity as each step is broken down and assigned to different employees.
Multitasking is juggled easily.
Improved working culture in your firm
Increased control by employers to ensure quality business operations.
Simplifies complex tasks.
How Are Workflow Diagrams Used for Businesses?
Workflow diagrams can be used in various areas of a business, such as;
1.    Process Improvement
A common reason why companies use workflow diagrams is to improve business processes. Workflow diagrams provide an in-depth view of business operations before they are even started. As a result, you can have constructive ideas for executing your project to ensure optimal results.
2.    Process Tracking
You can combine it with software to track different processes of your project. This will ensure that everything is on-time, minimizing delays that could affect your business operations. Tracking your workflow diagrams online can help you meet deadlines, do role transfers, and re-assign tasks efficiently.
3.    Identifying Redundancies and Bottlenecks
One of the most important uses of workflow diagrams is that you can spot different threats and risks you could face in achieving the desired results. It gives you a chance to eliminate them or prepare for them beforehand. Workflow diagrams facilitate risk identification and management to prevent your business from severe blows.
4.    Analyzation
Workflow diagrams can be used to analyze your business processes adequately. This will allow you to enhance performance, fix issues, identify market trends and competitors and ensure optimal performance by every person on board.
How To Make A Workflow Diagram?
Making a workflow diagram is easy. All you need to do is follow the steps listed below.
Step 1: Start By Identifying Your Goals
The primary step is to determine your goal to have a constructive direction towards which you have to work.
Step 2: Collect Essential Data
Next, collect essential data by collaborating with different teams and employees. This will offer an in-depth understanding of the project to curate practical ideas, identify bottlenecks and develop improvement solutions.
Step 3: Design The Workflow
Design your workflow by choosing design tools. You can add steps, designate tasks and include guidelines.
Step 4: Fill Loopholes Through Analyzation
The analysis step is crucial to building an effective workflow diagram. By thoroughly analyzing your diagram, you can identify risks and weaknesses and prepare for them beforehand. Moreover, it also reveals essential insights about every step in the process.
Step 5: Optimize Your Workflow
The final step is to optimize your workflow diagram, where you implement changes and innovative ideas wherever necessary. This will give rise to a seamless flow of work, taking your business to reach exceptional heights.
Conclusion
Workflow diagrams are a smart and effective way to plan, conduct and manage your business processes. They offer increased productivity, transparency, and a streamlined flow of projects, which is necessary for a business to succeed.
Read more:
Designing Workflow Diagrams: A Step‐By‐Step Guide