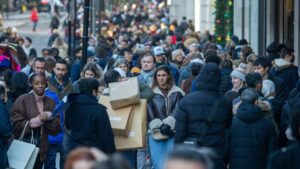 High streets boosted by busiest month for shopping since pandemic
Footfall in December reached its highest level since the pandemic as shoppers headed to stores in search of Christmas gifts.
Figures from the British Retail Consortium (BRC) showed that overall footfall during December was up 15.1 per cent from the same month in 2021.
However, the gains are likely to be wiped out this month as shoppers make cutbacks and stay at home, according to Springboard, the retail analyst. It has predicted the UK will experience a record drop in footfall in January as strikes and the cost of living crisis prevent consumers from visiting shops.
Diane Wehrle, Springboard's marketing and insights director, said: "[Footfall in January] could be the worst on record. It is going to be severe. Normally the drop is around 20 per cent, but this could be 30 per cent quite easily because of the rail strikes combined with the cost of living crisis.
She added: "It doesn't take much for footfall to be impacted and if people are finding an excuse not to spend money, then a rail strike is a perfect excuse. It will impact retail, and it will impact hospitality."
Boosted by the festive period and an absence of Covid restrictions, the UK's brick-and-mortar retailers mounted a recovery in December. The number of shoppers on the high street rose by 19.7 per cent compared with December 2021 while activity at out-of-town shopping centres rose by 13.4 per cent, the BRC said.
There was a large disparity in shopper numbers among the UK's cities, however. Footfall in London was 12.3 per cent lower during 2022 compared with 2019, before the pandemic, while in Belfast it rose 9.3 per cent. Manchester was the only other city in the UK to record a rise in footfall compared with 2019, with shopper numbers up 2.6 per cent.
Total footfall figures in 2022 remained down on pre-pandemic levels, with annual shopper numbers 11.8 per cent lower than 2019. Yet this was an improvement from 2021, when footfall was 33.2 per cent below pre-pandemic levels.
Helen Dickinson, chief executive of the BRC, said: "Historically low consumer confidence and 30-year-high inflation made for an exceptionally difficult year for consumers and retailers, with footfall down over 10 per cent on pre-pandemic levels. Nonetheless, this was still a significant improvement on the previous two years when the pandemic kept many people at home."
Read more:
High streets boosted by busiest month for shopping since pandemic