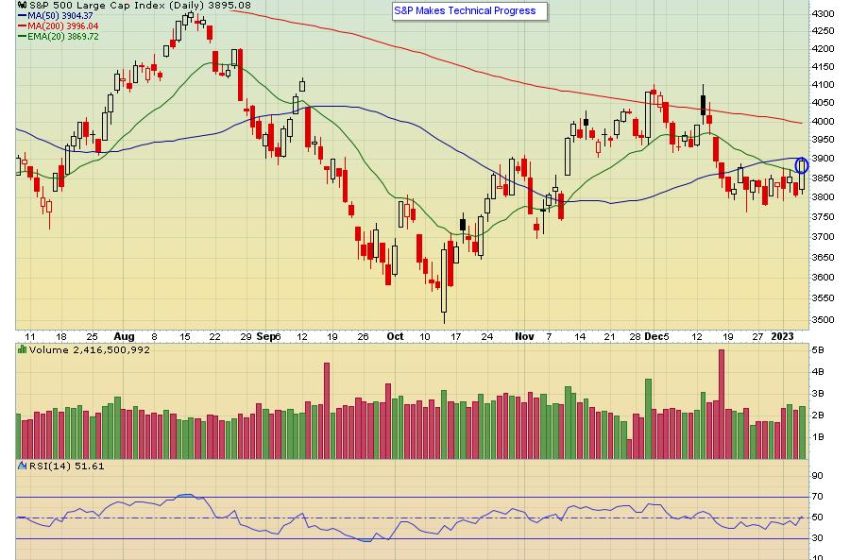 Bulls Hold the Line – What Comes Next?
We're through the first week of January and, even though the bulls don't have that much to brag about yet, they did manage to hold the line, with the market staging a nice rally into Friday's close. In fact, as you can see below, the S&P closed back above its 20 day moving average for the first time since mid December, even challenging its 50-day before settling down in between.
Friday's solid rally came on the heels of the jobs report showing wages have slowed, giving the bulls hope that the Fed will be less aggressive when it next announces a rate increase. But while the Dow finished the week above all of its key moving averages, and the S&P made some progress, the tech-heavy NASDAQ continues to lag, which is going to make it tough for the overall market to hold its gains unless it joins the party.
All leading to the question…what comes next? And it's a great question to ask! Plus, the timing couldn't be better, as we will be conducting a FREE, highly educational webinar, "Market Vision 2023", this Saturday, January 7 starting at 9am Eastern Time. This webinar will feature our Chief Market Strategist Tom Bowley, who will be joined by StockCharts.com's Julius de Kempenaer, Grayson Roze, and David Keller. Quite the all-star lineup! To learn more about Saturday's event and to save a seat, just click here.
2022 was a year a lot of traders would just as soon forget. But, as usual, there is nothing we can do about the past. However, we can always learn from the past as we get ready to navigate another year. Hope you can join us Saturday!
At your service,
John Hopkins
EarningsBeats.com