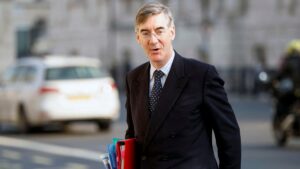 Jacob Rees-Mogg to receive £500,000 in fund dividend
Former business secretary and staunch Brexiter Jacob Rees-Mogg will receive about £500,000 in annual dividends from his stake in Somerset Capital Management, the investment fund he co-founded in 2007.
However, the prospect of Rees-Mogg collecting an even bigger multimillion-pound windfall appears to be on ice, as the Guardian understands Somerset is no longer holding talks about a potential sale of the firm valued at between £70m and £100m.
More than a dozen members of Somerset will collect part of the £6.49m profit available to them for the year to 31 March 2022, although this was one-third lower than the nearly £9.7m recorded a year earlier, after a fall in profit. Rees-Mogg received dividends of at least £600,000 in 2021, according to the Times.
Rees-Mogg, who served as Brexit opportunities minister from February until September last year, when he was appointed business secretary by Liz Truss, helped establish Somerset in 2007.
Before he stopped taking a salary from the firm, Rees-Mogg previously received about £15,000 a month, plus his salary as an MP. He stopped receiving wages from the firm in 2019. He remains an equity-holding member.
His shareholding is understood to be in the low teens, although this information is not publicly available.
Rees-Mogg's current role at Somerset has been described as a sleeper shareholder, someone not involved in advising the firm on its investment strategy or in running the business.
Rees-Mogg's payout for the year to the end of March 2022 may have been lower than that for the previous 12 months as a result of the slide in profits at the firm, linked in part to a sell-off in emerging markets.
It is understood that the members' share of last year's £6.49m profit will be distributed once salaries of working members and other expenses have been paid.
Rees-Mogg, a vocal supporter of Brexit, has received at least £7m in dividends from Somerset since the EU referendum in 2016, according to media reports.
The company, which has £4bn in assets under management, has traditionally invested in listed companies in emerging markets, including China, South Korea, India and Mexico, and is believed to have benefited from the pound's fall in value after the Brexit vote, because its holdings were overseas.
Reports of a sale of Somerset emerged in October last year, when Dominic Johnson, a financier who co-founded Somerset with Rees-Mogg, was appointed as a minister in the Cabinet Office and the Department for International Trade.
The move by Liz Truss's government triggered criticism, at a time when she and her chancellor, Kwasi Kwarteng, faced questions over their links to the City after their il-fated mini budget handed substantial tax cuts to wealthy people and financiers.
Johnson is now the minister for investment in the Department for International Trade in Rishi Sunak's government. It is understood that Johnson has left Somerset and the firm is no longer holding talks with any parties over a sale.
Oliver Crawley, a partner at Somerset Capital Management said: "2021-22 was a challenging year for all emerging market investors, but we believe that valuations in many areas are now attractive. Our partnership structure allows us to take a prudent and long-term approach to how we manage the business, ensuring we focus on the best outcomes for our clients."
He added that the company had recorded net inflows in recent months and remained "well placed to take advantage of any improvements in our markets".
The company describes itself as: "An employee-owned, $8.5bn, global emerging markets fund management firm. We are based in London and Singapore and focus on managing concentrated, bottom-up, long-term, emerging market equity portfolios for our governmental, family office, wealth management and institutional clients. We have a variety of expertise in dividend growth investing, small, mid-cap and frontier markets."
Read more:
Jacob Rees-Mogg to receive £500,000 in fund dividend