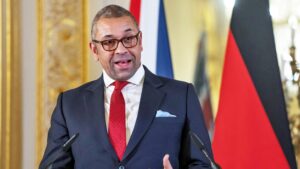 Brexit progress boosts hopes of Northern Ireland deal
Britain and the European Union have taken a step towards a Brexit deal over Northern Ireland and hailed it as a "new basis" for talks.
James Cleverly, the foreign secretary, and Maros Sefcovic, his EU counterpart, said they had reached an agreement in London on sharing customs data, which they described as a "critical prerequisite" to a deal.
Whitehall sources said that while there were still "difficult issues" to address things were "moving in the right direction".
The two men are to meet again next Monday after what are expected to be intense discussions at official level this week. The effective sharing of customs data is seen as key to reforming the Northern Ireland protocol because it could remove the need for checks on goods crossing the Irish sea, a key demand of unionists.
Last month Simon Coveney, who was Irish foreign minister, said a satisfactory data-sharing deal could help to unlock the wider talks. "If we're going to get a deal here, there has to be real-time sharing of data and that has to happen in a way that the UK are comfortable with and in a way that the EU can live with too," he said.
That deal appears to have been done, with Sefcovic and Cleverly saying it provided progress. "While a range of critical issues need to be resolved to find a way forward, an agreement was reached today on the way forward regarding the specific question of the EU's access to UK IT systems," the two parties said in a joint statement.
Sources in London highlighted comments made by Leo Varadkar, the new Irish prime minister, last week. He suggested that the Irish government was in favour of reforming the protocol, which Dublin had previously insisted could not be reopened.
"When we designed the protocol, when it was originally negotiated, perhaps it was a little bit too strict," Varadkar said "I think there is room for flexibility and room for changes, and we're open to that and up for that." He said that was also the position of Sefcovic and Ursula von der Leyen, the president of the European Commission. "So we are willing to show flexibility and to make compromises. We do want there to be an agreement."
A Whitehall source said: "I think that there is now an acceptance that for some parts of Northern Ireland the protocol really isn't working and that is positive. But time is not on our side and we really do need to make progress."
Read more:
Brexit progress boosts hopes of Northern Ireland deal