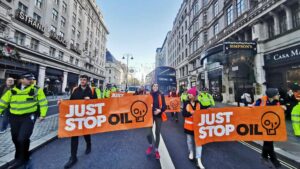 New powers for police to curb road activists after Just Stop Oil's street protests
Police are to be given more powers to combat new tactics taken by protesters that are designed to cause maximum disruption.
Just Stop Oil's most recent protests in the autumn involved slowly walking through streets in Shepherd's Bush, west London, and Holborn, in central London, to bring traffic to a crawl.
Downing Street said that it was looking at what extra powers could assist police in stopping the tactics from causing disruption to people's lives.
An amendment is expected to be added to the Public Order Bill, which is going through parliament and is intended to restrict disruptive protests. It is expected to complete its passage in the next few weeks. Rishi Sunak wrote an article for the Conservative Home website yesterday arguing that disruptive protests were "not right and we're going to put a stop to it". He said the proposals would be set out to prevent "a small minority disrupting the lives of the hard-working majority".
The prime minister wrote: "Peaceful protest is a fine British, democratic tradition. But that must be balanced with the rights of everyone else to go about their lives freely.
"We have been looking at how we can strengthen our laws to provide the police with the clarity they need to stop serious disruption and will come forward with those plans in the coming weeks. We cannot and will not have protests conducted by a small minority disrupting the lives of the hard-working majority, preventing a mother taking their kids to school or cancer patients attending their hospital appointments. It's not right and we're going to put a stop to it."
No 10 suggested that there could be additional powers and greater clarity for police. "We want the police to have the requisite powers and that includes ensuring that when people are significantly disrupting the public's everyday lives, the police can act," the prime minister's official spokesman said.
"There is additional legislation moving through the House already that provides further power, but we have seen new tactics emerge, evolve — in part because of the tougher powers we've introduced. So it's important we continually look at making sure the police have any powers, and certainly any clarity they need, to act.
"We've seen protests move to slow walking protests. Obviously the government fully respects people's right to protest, to demonstrate, and we will always protect that.
"But equally there needs to be a balance struck on protests that are deliberately designed to inflict misery on the public so they can't go about their daily lives."
Just Stop Oil said last week that it would continue using tactics such as blocking traffic, digging tunnels under roads and covering artwork in soup to grab public attention for its demands. Extinction Rebellion said it would be pausing disruptive demonstrations because "very little has changed".
Read more:
New powers for police to curb road activists after Just Stop Oil's street protests