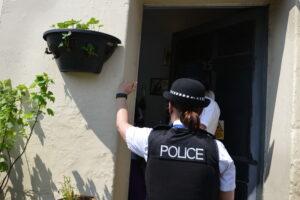 Police visit homes across the UK to issue warnings to subscribers of illegal sports streaming services
Throughout January, Federation Against Copyright Theft staff and police are going be visiting homes across the UK, serving notices to individuals to cease illegal streaming activities with immediate effect.
Over 1,000 individuals have been identified following raids by West Mercia Police against a UK-based illegal streaming service that was supplying entertainment and sports content via modified boxes, firesticks, and subscriptions.
While criminal prosecution is pending against the operator of the illegal service, police are also reminding consumers that using illegal streaming services is not just a crime but one that is treated extremely seriously by the courts. In 2021, two individuals, Paul Faulkner and Stephen Millington were sentenced to a total of 16 months in prison for watching unauthorised streams.
Users are also being advised of the many other risks associated with illegal streaming, including funding criminal organisations and exposing themselves to fraud, scams, inappropriate content, viruses, and malware.
Recent research, which analysed 50 popular illegal streaming sites, found that all contained malicious content, while over 40% of them did not have a security certificate. 50% of people who illegally stream in the UK say they or someone they know have been a victim of scams, ID theft, fraud or data loss as a result, and 41% have been exposed to inappropriate content.
FACT Chief Executive, Kieron Sharp, said: "We would like to thank the Government Agency Intelligence Network (GAIN), the Police Intellectual Property Crime Unit (PIPCU), West Mercia Police, and other police forces across the country, for their support to help ensure that the public are made aware of the dangers of using illegal streaming services and, more importantly, that they understand that there is the risk of criminal prosecution".
Police Intellectual Property Crime Unit (PIPCU) Detective Chief Inspector, Gary Robinson, added: "Accessing films, TV series and live sports events from unauthorised sources is illegal, can expose consumers to risks such as data theft and malware, and can help fund organised criminal groups. PIPCU is pleased to support this enforcement activity, and we will continue to work with our partners to take action against those who use and supply illegal streaming services."
Read more:
Police visit homes across the UK to issue warnings to subscribers of illegal sports streaming services