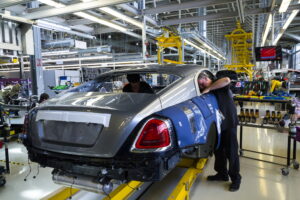 Rolls-Royce and Bentley accelerate over the past 12 months
Britain's two great luxury car brands have reported record sales as the world's superwealthy keep on spending.
Rolls-Royce, based in its purpose-built Goodwood facility near the south coast, reported an 8 per cent growth in cars sold in 2022 to 6,021, breaking through the 6,000 mark for the first time and eclipsing what had been a record 2021.
The company also said more of its rich clientele were demanding bespoke customisation of vehicles, so the average selling price of its stable of models has topped €500,000 per vehicle for the first time, bringing in revenues of €3 billion.
Bentley, based in Crewe, Cheshire, said it had gone through the 15,000 annual sales mark for the first time, selling 15,174 vehicles in 2022, a yearly increase of 4 per cent. It has not yet disclosed its revenues for the year, but previous filings show that its cars sell on average for €220,000 apiece.
The companies spent much of the last century in joint ownership, but ended it in a complicated demerger, with Bentley ending up in the hands of Volkswagen and Rolls-Royce (long since separated from the aerospace group of the same name) taken on by BMW.
After hiring 250 more people over the past year, Rolls-Royce now employs 2,500 people and Bentley 4,000 staff in Crewe.
Their sales booms have been fuelled by decisions to enter the 4×4 sports utility market, where Range Rover once had free rein. The Rolls-Royce Cullinan and Bentley Bentayga may have divided people over their design aesthetics, but they are keeping the accountants happy. The Cullinan accounts for half of all Rolls-Royce sales, about 3,000 units, while the Bentayga represents 42 per cent of Bentley's output, or about 6,400 units.
Torsten Müller-Ötvös, 62, the Rolls-Royce chief executive, said sales had been driven by a new generation of young customers in the China, the Middle East and the United States who are demanding bespoke versions of Cullinans, Dawns, Ghosts, Phantoms and Wraiths. He said it was crucial for the brand to retain its "scarcity and exclusivity," but conceded: "We are driven by demand."
Demand has leapt in the Americas, which account for 35 per cent of sales. Sales in China dipped by single-digit percentages because of the impact on trade of coronavirus lockdowns, but the country still accounts for 25 per cent of Rolls-Royce volumes.
For Bentley, sales in the United States were flat and China was down by 9 per cent. The rest of Asia was strong, up 23 per cent, as was Britain, up 12 per cent year-on-year and accounting for one in ten Bentley sales.
There was no such good news from Jaguar Land Rover, a carmaker that may have pretensions to play in the luxury end of the market but is dismissed by the likes of Rolls-Royce and Bentley as merely a "premium" manufacturer.
The company, which employs about 30,000 people in plants around the West Midlands and on Merseyside, reported sales in the last quarter of 82,000. While that represented a 5 per cent improvement on a disastrous 2021, it means that sales of Range Rover, Land Rover and Jaguars are down 45 per cent from five years ago.
Read more:
Rolls-Royce and Bentley accelerate over the past 12 months