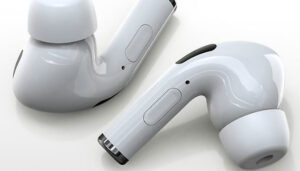 Airs Pro 3rd Gen Bluetooth Earbuds & Charging Case
The Airs Pro 3rd Gen Bluetooth Earbuds & Charging Case come in a wide variety of colours, including white, pink, blue, yellow, black, and green and are currently discounted to £9.99
The colours are very bright and vibrant, and, of course, both the case and earbuds will be in your chosen colour. This newest generation of Airs Pro earbuds will provide you with a superior listening experience whether you're a casual listener or a music junkie.
A single charge of the earbuds can provide you with up to 4 hours of listening or talk time before they need to be replaced into their case for charging. In just one hour, the earbuds will be fully charged and ready to go once more.
Does this deal sound good to you? Get these Airs Pro 3rd Gen Bluetooth Earbuds & Charging Case from only £9.99 – https://www.gogroopie.com/all/hmmgnz3zny/_ggbusm_4203C_050523_airs
When the case and earbuds are fully charged they will retain battery for up to 120 hours on standby. If you hold the charging case open near your devices, a window will pop up with an accurate display of your battery percentage. So you can always be in the know about how much charge your earbuds and their case have.
No longer will you need to untangle earphone wires or be tied to your device. These earphones will stay connected to your chosen device for up to 10m! So you can leave your device in one place whilst you move about freely. The Airs Pro 3rd Gen Earbuds use Bluetooth V5 and EDR technology to create a smooth and seamless listening experience. Your calls and music will sound clear as can be with these earbuds. The earbuds use a 2.4GHZ wireless frequency, which creates high-quality audio and helps the battery of the headphones to last longer.
These earbuds will keep working in temperatures ranging from -10°c through to 50°c, so no matter the weather you can listen to your tunes. To make these earbuds even more convenient, you can control your music by giving the sides of the earbuds a tap or two. You can skip songs, control the volume, pause & play music, and answer calls without ever having to look at your device.
This makes these earbuds great for wearing during work or when exercising. In addition to all this, these earbuds also have noise-cancelling technology, so nothing can disturb you from listening to your tunes or a podcast.
When you want to hear the surrounding noise, you can turn the noise cancellation off. These earbuds will sit snugly in your ears, so you can walk, run, or even jump without them falling out. The earbuds have a built-in microphone with a sensitivity of -42Db. This means that your voice will sound clear and crisp on your phone calls no matter the noise going on around you.
Thanks to the earbud's 13mm driver, they create a deep and powerful baseline for your music which makes for a more immersive listening experience. With the 13 ohm listening impedance, your music will sound just how the producer intended it to sound. For a superior listening experience choose the Airs Pro 3rd Gen Bluetooth Earbuds & Charging Case.
Read more:
Airs Pro 3rd Gen Bluetooth Earbuds & Charging Case