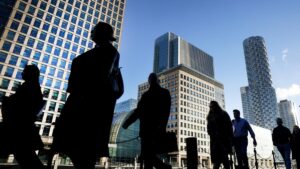 Canary Wharf Group announces 15 year private windfarm deal
Real estate giant Canary Wharf Group has teamed up with Brookfield, one of the world's largest renewable energy providers, to support the building of a new wind farm in the UK and procure clean energy.
The 15-year power purchasing agreement (PPA) will provide CWG with long-term price certainty while encouraging further movement towards renewable energy across the estate.
The deal will also create a stable revenue stream to support Brookfield's construction of a 60MW wind farm to supply the CWG power purchasing agreement – effectively guaranteeing a buyer for the firm's energy.
Overall, the agreement will meet at least 70 per cent of CWG's electricity consumption needs, while also providing the potential to power all residents, office occupiers and retailers across the 150 acres of Canary Wharf entirely by renewable energy.
The wind farm is part of Brookfield's pipeline of renewable projects and is expected to be commissioned by 2026.
It is the latest eye-catching move by Canary Wharf Group, which has recently announced plans to build a life sciences hub in the area.
The CWG partnership with Brookfield reflects the UK's drive towards prioritising domestic investment in renewable energy, which is the cheapest source of energy available – currently delivering a nearly 50 per cent saving compared with electricity generated from gas.
In pursuit of its net zero ambition, CWG has already reduced its emissions by 26 per cent across scopes one and two, and in scope three downstream leased-assets.
CWG has procured renewable electricity for the estate since 2012, and considers tackling emissions from customers to be one of the biggest challenges in the property sector.
However, renewable energy power purchasing agreements, signed directly with project developers rather than bought through retail energy suppliers, allow CWG more control through guaranteeing the source, and supporting the overall supply of renewable energy in the UK.
Shobi Khan, CWG's chief executive, said: "This agreement will not only give CWG more control over emissions from our buildings: in adopting a partnership approach with Brookfield, it creates the certainty required to allow them to invest in construction of this wind farm and increase the UK's overall supply of renewable energy. It will also create new options for our occupiers to lower their own footprints further."
Tom O'Brien, managing partner and chief executive Brookfield's renewable power and transition group, said: "It is important that we continue to invest in and build the infrastructure required to help businesses accelerate their transition to cleaner forms of energy and achieve their net-zero targets. This power purchasing agreement with CWG ensures their entire estate, including their customers, have access to reliable renewable power, with flexibility to expand as the CWG estate grows."
Read more:
Canary Wharf Group announces 15 year private windfarm deal