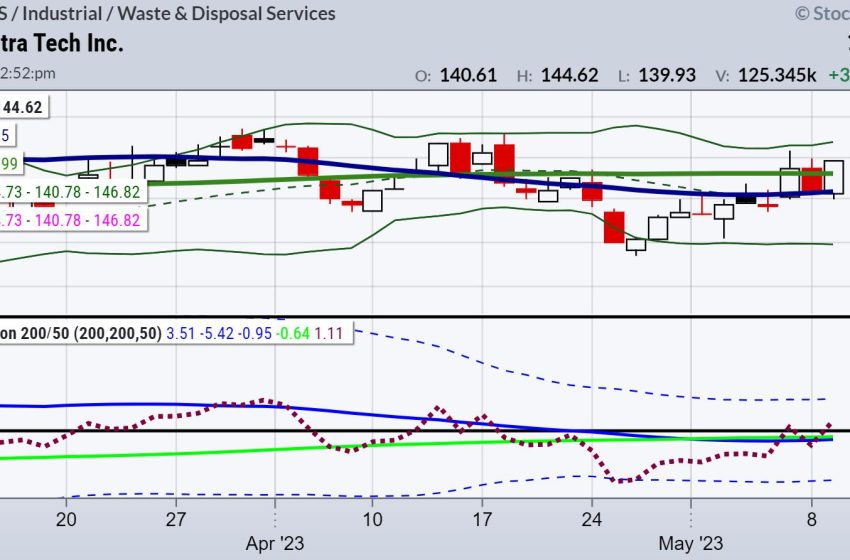 Stock Picks from the 2023 Market Outlook
The Market Outlook for 2023 was written in December 2022.
I have a designated radar screen for all the predictions and stock picks. The picks especially remain a focus for short-term and longer-term trades, depending on market conditions. In December, I wrote, "This stock, Tetra Tech (TTEK) made our radar when it announced that they are producing zinc-bromide used in batteries and for energy storage. Zinc-bromine batteries offer advantages over lithium-ion batteries. The battery materials are low cost, readily available and with little capacity degradation. The chart looks amazing, bullish in phase and leadership with a clear risk under the 50-WMA."
Since December 2022, TTEK has lived under the 50-WMA (week moving average) more than it has lived above it. Nonetheless, with earnings on tap after the close May 10th, this stock caught our eye again today, confirming the move from last week back over the 50-WMA.
On May 9th, TTEK moved up over 3% after an inside day May 8th. On the Daily chart, TTEK looks amazing over 148.50, which interestingly, corresponds with the 23-month moving average resistance. Real Motion indicates an increasing momentum. with it clearing the moving averages and the zero line.
Perhaps this will finally find some follow-through this year, after 3 major bottoms with higher lows since January.
To be fair, in December, I wrote about emerging markets focusing more on EFA the ETF, which tracks a market-cap-weighted index of developed-market securities based in Europe, Australia, and the Far East. It excludes the U.S. and Canada, and small caps.
However, as GREK was my sleeper trade of 2022, since December, I have come to love this ETF above, or the one of Vietnam, thus:
I am declaring this the sleeper trade of 2023-2024.
Vietnam has experienced significant growth in its manufacturing sector, becoming one of the fastest-growing economies in Southeast Asia. Government policies aimed at attracting foreign investment, an abundant supply of cheap labor, and favorable trade agreements with other countries have helped. Samsung, Intel, and Nike are a few that have set up manufacturing operations in Vietnam. In addition, Vietnam has been able to take advantage of trade agreements such as the Comprehensive and Progressive Agreement for Trans-Pacific Partnership (CPTPP), which has opened up new markets for its exports.
Hence, sleeper.
The daily chart shows good consolidation above the 50-DMA. It still trades below the 200-DMA. However, there is a bullish divergence in our Real Motion Indicator. The 50 or blue line is above the 200 or green line. Plus, momentum is rising while price goes sideways.
For more detailed trading information about our blended models, tools and trader education courses, contact Rob Quinn, our Chief Strategy Consultant, to learn more.
IT'S NOT TOO LATE! Click here if you'd like a complimentary copy of Mish's 2023 Market Outlook E-Book in your inbox.
"I grew my money tree and so can you!" – Mish Schneider
Get your copy of Plant Your Money Tree: A Guide to Growing Your Wealth and a special bonus here.
Follow Mish on Twitter @marketminute for stock picks and more. Follow Mish on Instagram (mishschneider) for daily morning videos. To see updated media clips, click here.
Mish in the Media
In this appearance on Real Vision, Maggie Lake and Mish discuss current state of the market, from small caps to tech to gold.
In the Q2 edition of StockCharts TV's Charting Forward 2023, hosted by David Keller, Mish joins RRG Research's Julius de Kempenaer and Simpler Trading's TG Watkins for an roundtable discussion about the things they are seeing in, and hearing about, the markets.
Mish and Dave Keller discuss why Mish believes that yields will peak in May, what to expect next in gold, and more in this in-studio appearance on StockCharts TV's The Final Bar!
Mish explains why Grandma Retail (XRT) may become our new leading indicator on the May 4th edition of Your Daily Five.
Mish discusses the FOMC and which stock she's buying, and when on Business First AM.
Mish covers strategy for SPY, QQQ, and IWM.
Mish and Nicole Petallides discuss cycles, stagflation, commodities and some stock picks in this appearance on TD Ameritrade.
Mish talks movies and streaming stocks with Angela Miles on Business First AM.
Mish and Charles discuss zooming out, stagflation and picks outperforming stocks in this appearance on Making Money with Charles Payne.
Coming Up:
May 11th: Jim Pupluva, Financial Sense Podcast
May 19th: Real Vision Analysis
ETF Summary
S&P 500 (SPY): 23-month MA 420.Russell 2000 (IWM): 170 support, 180 resistance.Dow (DIA): Dancing on the 23-month MA.Nasdaq (QQQ): 329 the 23-month MA.Regional Banks (KRE): 42 now pivotal resistance-holding last Thursday low.Semiconductors (SMH): 23-month MA at 124.Transportation (IYT): 202-240 biggest range to watch.Biotechnology (IBB): 121-135 range to watch from monthly charts.Retail (XRT): 56-75 trading range to break one way or another.
Mish Schneider
MarketGauge.com
Director of Trading Research and Education