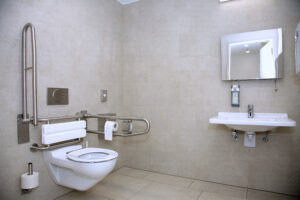 Transform Your Bathroom with These 5 Close Coupled Toilet Ideas
When it comes to toilet types, a close coupled toilet is the common design in the UK. Depending on the design you prefer, these can be a suitable option for classic as well as traditional bathrooms.
But you will need to know the perfect way to incorporate such toilets in the bathroom for a highly functional as well as aesthetically pleasing space. Our blog explored five design ideas that make most of the close coupled toilets while creating a cohesive and stylish look. We provide tips on various options that can be suitable for your bathroom décor. Whether you are planning for a bathroom upgrade or need a toilet for a new bathroom, our ideas will help you create a functional and beautiful space that you can enjoy in years to come.
Close coupled toilet is the most popular type, which features a "bowl and cistern" closely coupled together within a single unit. It is available in various designs allowing you to incorporate it into the bathroom interior in various ways.
Idea #1: Choose a Modern Close-Coupled Toilet Design
Though these resemble the old traditional high level and low-level types, the Close Coupled Toilets come in both traditional and modern styles. So, you can choose the one depending on your design requirements. A modern close coupled toilet is always characterized by sleek, minimalist designs and subtle curves that are noticeable on its bowl as a cistern. You will find them in various designs that all can fit into the definition of a modern toilet. For example, round and elongated shaped toilet bowls can create an attractive aesthetic in the bathroom. So, it can be helpful in adding touch sophistication and perfectly complement a modern bathroom layout.
Idea #2: Opt for a Space-Saving Close-Coupled Toilet
While most bathrooms in the UK are small, you may need to choose a space saving close coupled toilet option. These are designed to occupy minimum space with the often narrow-bodied bottom. That makes these a good option for space problems. A short projection close coupled toilet can be another option that has less depth and width to cut out on a space requirement. It can be your option if you are particularly looking for a compact toilet for your bathroom. Such toilets can create an open and spacious feel by helping to create less cluttered bathrooms. You can match the toilet with wall hung toilet sink unit in white for coordinated looks.
Idea #3: Choose a Classic Close-Coupled Toilet Design
If you love the design from a bygone era, a classic close coupled toilet might be the right option. These toilets are more in resemblance to the low-rise and high-level toilets. The ornate details and timeless aesthetics with classic cistern design give the classic style its distinct looks while also complementing the other classic design elements.
One of design tips for a classic close coupled toilet can be to pair it with a freestanding vanity unit, a bathtub, or a pedestal sink. Such toilets also match perfectly with vintage inspired decorations.
Idea #4: Add a Touch of Luxury with a Comfort Height Close-Coupled Toilet
If you are looking for a more comfortable and luxurious experience of using a toilet, then a comfortable height close coupled toilet might be the perfect choice. Such toilets are taller than traditional ones, providing a more comfortable and luxurious experience. The rise in the height of the standard toilets makes it easier to fit and stand, which makes this type of toilet a highly comfortable option for older adults and those with mobility issues. You can pair this type of toilet with a heated toilet seat, a budget attachment, and other luxurious bathroom accessories. 
Idea #5: Consider a Dual-Flush Close-Coupled Toilet for Eco-Friendliness
While toilets use almost 22% of total water usage at home in the UK, it can be a good idea to choose the toilet type that can help you save water. Therefore, a dual flush close coupled toilet can be preferred. Such toilets come with two buttons or handles that allow the user to choose between full or half button flush depending on their needs. By using water in each flush, you can bring a significant reduction in water usage. As a result, you can expect reduced water bills over time. It is a modern feature that must have in every modern toilet. So far, around half of UK homes have opted for dual flush toilets in the UK, and it has helped in reducing the bills over time.
Final Thoughts
Whether you are looking for a modern or classic bathroom, close coupled toilets can easily be a perfect choice. We have discussed various toilet ideas for modern, space saving, classic luxurious, and water-saving purposes. By keeping these ideas in mind, you will be able to make the most out of your new installation.
Read more:
Transform Your Bathroom with These 5 Close Coupled Toilet Ideas