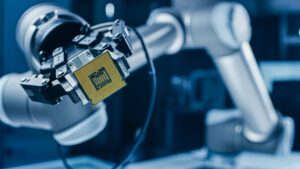 Government announces £1bn investment into UK microchip industry
Up to £1 billion will be invested in the microchip industry over the next decade as part of the government's long-delayed semiconductor strategy — a fraction of the tens of billions being invested by the US and the EU.
Publishing its plans for boosting production of the crucial electronic components, the Department for Science, Industry & Technology acknowledged that the UK would never be a superpower in the sector because of the expense of building semiconductor factories, known as fabs.
America has put $50 billion behind its microchip industry and the EU has put in more than €43 billion, with a view to doubling its global market share in semiconductors to 20 per cent by 2030. In contrast, the UK will invest up to £200 million by 2025, which should stretch to £1 billion by 2033, although this will be subject to future discussions.
Dr Simon Thomas, chief executive and founder of Paragraf, a Cambridgeshire-based firm that manufactures graphene to mass-produce semiconductor chips, described the government's plans as "quite frankly flaccid".
"It is a long way from addressing the needs of UK chipmakers," he said. "The headline figure the government has put out for the whole industry is less than what it would cost to establish a basic microchip fabrication plant, as quoted by others before, and now in reality the UK's capital commitment is nothing but a rounding error in this industry."
The government intends to build international partnerships to ensure supplies of components, help to fund skills, and focus on Britain's areas of expertise. These include design, research and development and sophisticated compound semiconductors built in places such as Cambridge and south Wales. An advisory panel of experts will be appointed to look at growing the industry and playing to its strengths.
A spokesman said there was a "significant step change in the attention that the government is paying" to semiconductors, with a 20-year vision for the sector. Rishi Sunak made the funding announcement at the G7 summit in Japan, where he is discussing collaboration on supplies of technology.
"By increasing the capabilities and resilience of our world-leading semiconductor industry, we will grow our economy, create jobs and stay at the forefront of technological breakthroughs," he said.
A shortage of semiconductors during the pandemic halted manufacturing in some sectors and caused a scarcity of electronic goods, raising awareness of their critical importance. Britain's tech industry has been waiting for a strategy to be laid out since the autumn. The delays had led some to warn that the UK's status in the sector was at risk.
Julian David, chief executive of techUK, which represents the industry, said that time was now of the essence. "Given the delays to this strategy being produced, if we delay the implementation we risk falling further behind in the race to secure a place in this valuable sector. Strategic allocation of the funds is now of utter importance."
Read more:
Government announces £1bn investment into UK microchip industry