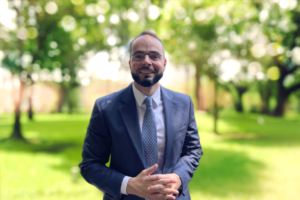 Getting to Know You: Vladimer Gersamia, Founder of MMBI Trading
Vladimer Gersamia was born in Tbilisi, the capital city of the Republic of Georgia in 1983. While he was still a child, Valdimer and his family had moved to the Netherlands, where he attended that country's British School to receive his primary education.
In a logical next step, he moved to the United Kingdom itself to complete his secondary education at The Leys School in Cambridge. Following that, he enrolled in the University of West England in Bristol, eventually earning credentials in History and Economics.
After graduating, Valdimer Gersamia would spend the next eight years employed by firms in the City of London as a financier. There, he worked with investors, hedge funds, and traded various financial products. However, when the financial crisis of 2008 and the ensuing great recession of 2009 took hold, he came to realize that working within industries based on speculation, such as risk assessment and high finance was not the right path for him, and he changed course to work in a more tangible, and in his view, stable sector. He began to focus on fast moving consumer goods (FMCG), specifically importing exotic foods to Eastern Europe, and eventually becoming a widely-respected specialist. In this role, he worked with large wholesalers and retailers creating and securing supply chains for the delivery of products, primarily coming from South America and Africa.
As 2020 neared, Vladimer Gersamia moved back to his home country of Georgia and established his own importing business, MMBI Trading, with his focus remaining on FMCG and exotic foods. Now, little more than two years later, MMBI is a successful multinational trade firm with offices in Dubai, Istanbul, Yerevan, Almaty, and Tashkent.
What do you currently do at your company?
I oversee the day-to-day operations. The model we have is quite horizontal in management and operation. You can look at it in two ways: There's the backbone with all the offices in management, accountability, financial reporting, and other performance indicators. And then the front end involves our teams on the ground. We have teams in five different geographic territories with an established office in each area that have people sourcing supplies, helping customers, and so on. My job is best described as an American football quarterback, making sure that everything runs as smoothly as it can. It falls upon me to make sure our targets are hit and that our financial volumes are achieved.
What was the inspiration behind your business?
The COVID pandemic for sure! A few years back I wanted to drift away from the service sector and move into bringing tangible products into the market with real world value. But in terms of my own business, the pandemic showed that we, myself included, took the old methods that created the supply chain for granted. When everything shut down, it made people realize that we need much smaller, targeted, and localized means to get products to the people that need them. That's what my company does.
What defines your way of doing business?
There are many ways of conducting business. I feel there isn't any one particular set of rules that people should follow. Everyone has to find their own path forward. What feels right for me is a long-term trust approach for business relationships. I don't like the cutthroat mindset where you feel compelled to undermine your competition, steal clients, and so on. We would rather make one dollar a month for ten years instead of $100,000 in one day at the cost of the relationships with our counterparts. We are built on long-term relationships, which in this region is quite new and understandably, some people are a little cautious about it. However, we feel that in the long run, the long-term relationships will be better for all parties concerned, both morally and financially.
What are the keys to being productive that you can share?
It's all about discipline and distraction, right? From the moment you wake up to until you fall asleep, you are flooded with information, news, and advertisements. It's very key, personally, for me to take care of all my tasks first thing in the morning, when my productivity is highest. Among other things, that means limiting the amount of access I have to email. So, all of my colleagues and partners know better than to send me an email if there's something urgent. In such a case, they call me, knowing that I will be there to answer them. I think that just waking up and checking my emails on an ad hoc basis is detrimental to my productivity. So, I stick to a schedule of checking my emails at set intervals at midday, 3 pm, and then in the evening. I also try to make sure that the day's most important tasks are done first. That way, I only have to deal with calls and meetings in the afternoon.
How do you measure success?
The measurement of success generally has changed over time. If you look at the 1980s and 1990s, it was very much just about the material aspect. Now, the prevailing consensus is that success is based more on the environmental, social, and governance values in society. But for me, I think the constant themes have been personal responsibility and growth. If I'm conscious that I'm growing, along with my business, and I am growing as a person, that is all the success that I strive for. So, that being the case, I would consider myself successful if I were to compare myself from last year to this year.
What is the most valuable lesson you've learned through the course of your career to this point?
Looking back doesn't give you anything. There will always be an opportunity to redeem yourself or make up for the mistakes you make, therefore, slowing down and looking back is not a good idea. Obviously, you should learn from your mistakes, but I've found that as long as you keep moving forward, opportunities will come to you because life doesn't stop. So, the most valuable lesson that I've learned so far is to just keep going forward.
What advice would you give to others who are aspiring to succeed in the same field?
Owning and operating a fast moving consumer goods importing firm is very stressful. You have to understand that it's not a nine-to-five kind of fixed job where you clock in the morning and out in the evening. You have to be ready at all times of the day because you're dealing with different time zones, different suppliers, and different goods that might be in one place in the morning and in another later that night. Basically, the best piece of advice that I can give is that you have to be ready all the time, which is why I don't think it's a job for everyone. Some people really want a distinction between work and life, whereas this, fortunately or unfortunately, will take over your life.
How do you  maintain a work life balance?
It's a challenge. When I look at my business, I try not to separate my family and my life away from work with my work. It's all one part of the whole. So, I try not to have this sort of segregation of assets. I'm available all the time for my business partners, but I'm also available all the time for my family, as well. The way I balance everything is by not thinking of it in terms of balance, but rather in terms of equal amounts of attention.
What are your favorite things to do outside of work?
I love sitting down in a park without a phone in silence. It's a very underappreciated way to spend time. Before the advent of smartphones, if you were waiting for the bus or some such mindless activity, the best idea in the world may occur to you because you were not otherwise engaged. But now, any spare moment people have is spent checking the news or playing a game or checking social media, or something like that. I've found that switching off my phone for 24 hours, even if it's once every one to three months, does wonders for me. In this day and age, contemplative silence without screen time  seems a bit eccentric, but I appreciate it very much.
What is one piece of technology that helps you the most in your daily routine?
The advent of electronic signatures was something that I really appreciated when they were first introduced. Since then, they've played a big role in saving me time. Before, I would have to literally sign about 200 documents by hand per day. So, I'm grateful to Adobe for developing this technology.
What has been the hardest obstacle you've overcome in business?
When you start a new business, the hardest obstacle is getting people to work with you. To different people, trust can mean many things. In general, it's a track record. When you apply for a bank account or a loan with a new financial institution, it's a bit of a chicken and egg scenario, because they want to see what you've done over the past year, your earnings, and the like. As a new business, you have no track record or data to show them and it requires a leap of faith on their part to work with you. Metaphorically speaking, you will probably have to knock on a 100 doors or more to find partners willing to take that kind of a risk, but eventually, some people will open their doors to you. Navigating my way through that process was a big challenge.
Who has been a role model to you and why?
One role model I know very well was my grandfather. He was born in Russia, and as you can imagine from his probable age, at that time, it was under a horrible communist regime. But, by the 1980s, the Soviet government had introduced something called Perestroika, which allowed private enterprise, private property, and the accumulation of capital to fuel its first entrepreneurs. And you have to remember, that class was .001% of the population and everyone else was in horrible conditions working for the state. First, my grandfather was a role model for me in the sense that he wasn't scared to be one of the few who bravely created a new enterprise in such an uncertain landscape. Secondly, he was always helping other people. He showed me that to grow a business and lead a satisfying life, the focus should be much more on your capital and revenue accumulation rather than your expenses. It's a very hard strategy to implement in real life, but it's something that I aspire to.
What is a piece of advice you have not forgotten?
There's an old Chinese saying that a lazy man works twice as hard. I think it's a fantastic saying because whenever you take lazy shortcuts, you end up needing to do more work to make up for the mistakes and setbacks that inevitably arise as a result of your initial laziness.
Read more:
Getting to Know You: Vladimer Gersamia, Founder of MMBI Trading