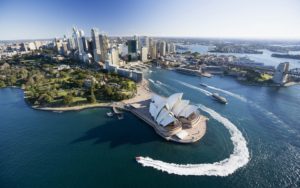 Is the cost of doing business in Australia viable for your company?
Many questions must be answered as British businesses continue to try and get their house in order in the aftermath of Brexit, COVID-19, and economic downturns.
One common challenge today comes from expanding into new avenues. For example, Australia is a common nation to target for British businesses looking to expand abroad. The shared language and cultural similarities mean that many goods in Britain could also do well in Australia.
Yet the challenges involved in setting up a business opportunity in a country on the opposite side of the world can be quite challenging. With the rising cost of doing business, a primary concern will revolve around freight and transport costs. If you need to ship products to Australia and then across the country, can you do this without extensive expenses for doing business?
If you have already established a potential partnership in the country, then brilliant. You can use this to your advantage, as it should be easier to set up transit and transport of goods/services when you have agreed to contracts. The first thing you need to do is look at the cost of shipping.
Australia is home to many freight companies, so you need to get yourself a quote from a courier. To find a freight quote, you can contact companies yourself and look to find out their best price. Or you can use one of the many options for a price comparison to help you find the most affordable freight prices.
It is always worth comparing the cost of transit
Whether your business is in the European Union (EU), across the United States, or is moving into Asia, you need to find contracts and partners. You need to be able to get your goods shipped to the nation in question and then have someone assist with distribution. Distribution often is managed through couriers and other delivery firms.
Therefore, once you have at least one contract to distribute your goods, you need to find a courier who can assist you with delivery. Whether you are running a dropshipping operation with clients in Australia or trying to open up your business in Australia fully, you need logistical support. Simply taking the first option you can find, though, is likely to leave valuable resources on the table.
The cost of business start-ups in Australia can be higher than in other parts of the English-speaking world for various reasons. The size of the country makes transit and transport harder to make affordable. By agreeing to a long-term deal with a courier, you can ensure that you can get cheaper transport options.
From getting your goods from the dock into storefronts to individual parcels and products dropped off to clients in Australia, you should get a courier and freight quote. The cost of doing business internationally is going up, but shopping around can ensure you get access to deals on vital logistical requirements such as transport of goods and services.
Do not take the first offer you see; shop around, and you could make the cost of building up Down Under much more manageable. The opportunities are there – you simply need to find a way to make them as cost-effective as possible.
Read more:
Is the cost of doing business in Australia viable for your company?