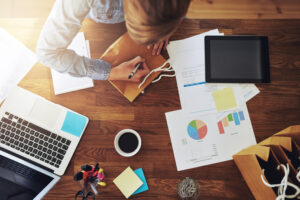 Over 800,000 businesses created in the UK this year – near record highs despite economic stress
There were 808,000 new businesses created in the UK in the past year, still close to record highs despite the economic stress of inflation and rising interest rates.
Thats according to private equity investment firm Growthdeck, who says that the Covid-19 pandemic unleashed a new wave of entrepreneurialism in the UK. Many individuals have taken advantage of the opportunities available through technology and flexible working to start new businesses.
The number of new businesses created last year was only slightly down on the 836,000 created in 2020/21, which was a record high.
The sector that saw the most new businesses created in the past year was retail, with 98,000 started last year, largely driven by online retail. The online retail sector has been a major growth industry for a number of years. The pandemic supercharged this trend as entrepreneurs took advantage of a more accessible e-commerce marketplace to turn hobbies into business ventures.
The red hot jobs market in the past two years means that recruitment is one of the sectors seeing the biggest rise in new businesses being created. Growthdeck's figures show that the number of new businesses created in the recruitment sector rose by 11% from 8,000 to 8,900 in the last year as more recruiters sprang up to meet demand from both businesses and individuals.
Ian Zant-Boer, CEO of Growthdeck, says: "Despite the economic uncertainty hanging over the country, the number of small businesses that have been created is a sign of longer-term optimism."
"The economic headwinds facing the UK mean we're likely to see the number of startups start to fall in the coming months. It's worth remembering however that the last recession triggered a wave of new startups. New businesses can grow strongly out of a recession so long as funding is in place to help them thrive."
Growthdeck says the continued high level of new business creation highlights the need for finance to help these businesses scale up. As the country heads towards a recession, banks are likely to pull back on lending to small businesses so it is vital that the Government does everything it can to ensure businesses have access to the investment they need to scale up.
Schemes such as the Government's Enterprise Investment Scheme (EIS) and Seed Enterprise Investment Scheme (SEIS) offer access to crucial equity finance for scaleup businesses – something that can be in short supply during a recession.
Zant-Boer says: "EIS and SEIS already have a track record of funding some of the best British businesses to emerge from the 2008/9 financial crisis. We expect to see the same happen again through the current period of economic stress."
Read more:
Over 800,000 businesses created in the UK this year – near record highs despite economic stress