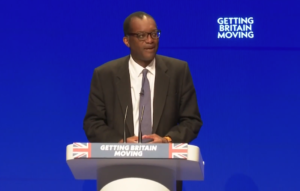 Kwasi Kwarteng defends tax cuts and dismisses market meltdown at Tory party conference
Kwasi Kwarteng has insisted that the government's tax-cutting agenda is not radical as he dismissed the reaction on the markets as a "little turbulence".
The chancellor addressed Tory MPs just hours after he was forced to perform an embarrassing U-turn that saw the government scrap its plans to cut the top 45p rate in income tax.
Kwarteng promised there would be "no more distractions" as he jokingly acknowledged the chaotic fallout from his mini-budget at the very start of his speech. "What a day," he said.
He defended the underlying economic theory behind the mini-budget and argued in favour of tax cuts for households and businesses. "That isn't radical, that isn't irresponsible it is a deeply held belief we all share as Conservatives," he said. "Rather than bashing business we are backing it."
In an apparent attempt to calm the markets, Kwarteng restated the government's commitment to Bank of England and promised to allow the OBR to publish independent forecasts after the recent turmoil on the markets.
However, he also vowed to cut down on public spending in a bid to convince lenders of the government's commitment to fiscal responsibility after what he admitted had been a "little turbulence".
He said the government's economic approach would be "backed by an iron-clad commitment to fiscal discipline" as he promised to reduce levels of debt. "We will have a strong fiscal anchor with debt falling as a proportion of GDP over the medium term," he said.
Commenting about the chancellor's speech, Rain Newtown-Smith, CBI Chief Economist, said: "Businesses are looking for the Government to deliver a credible medium-term plan for growth that includes concrete steps to boost investment in the UK. We welcome the commitment to delivering a plan alongside the OBR which will contribute to medium-term fiscal sustainability.
"Business backs an ambitious 2.5% target over the long term, and it was good to see the support for important supply-side reforms reiterated. They have been gathering dust and many, like addressing urgent planning issues, Net Zero investment and immigration reform, are long overdue."
Read more:
Kwasi Kwarteng defends tax cuts and dismisses market meltdown at Tory party conference